Incentive Fund awards a K10 million grant for new health facilities in Port Moresby
The Incentive Fund today announced the award of a K10 million grant to Catholic Health Services for a first-of-its-kind palliative care centre in Boroko, National Capital District.
Funding for the facility was made possible through the Incentive Fund, a partnership between the Governments of Australia and Papua New Guinea.
The 30-bed facility, to be called the Supportive Living Centre, will offer palliative care for terminally ill people and high quality care for the critically ill. It will also develop a support system to assist families to care for their terminally ill relatives at home.
In addition, the grant will support the development of a referral pathway within the National Capital District public health system with the aim to encourage similar facilities and health services in other provinces.
Australian High Commissioner to Papua New Guinea, Bruce Davis, officiated at the launch.
"By introducing this specialist model of health care, those most in need can now be cared for in a manner sensitive to their families and loved ones," Mr Davis said.
"The Government of Australia is committed to strengthening the Papua New Guinea health sector. Importantly, this project has been designed to strengthen links between civil society and the Papua New Guinea public health system."
"Health service delivery is a key focus for both the Australian and Papua New Guinea Governments, as is the empowerment of women and girls who, as the primary health carers in the community and at home, will benefit greatly through this project," Mr Davis said.
This new grant builds on a history of successful partnership between the Incentive Fund and Catholic Church Health Services. The previous phase of the Incentive Fund saw health projects valued at almost K19 million implemented in Western Highlands, Madang and Milne Bay provinces with Catholic Church Health Services.
Australia, through the Incentive Fund, has been partnering with Papua New Guinea to provide grants to high-performing organisations since 2000. The Strategic Management Group, the Incentive Fund's independent governing body, is expected to announce further grant recipients in December.
For further information, including access to related materials, please contact the Australian High Commission media team: +675 7090 0100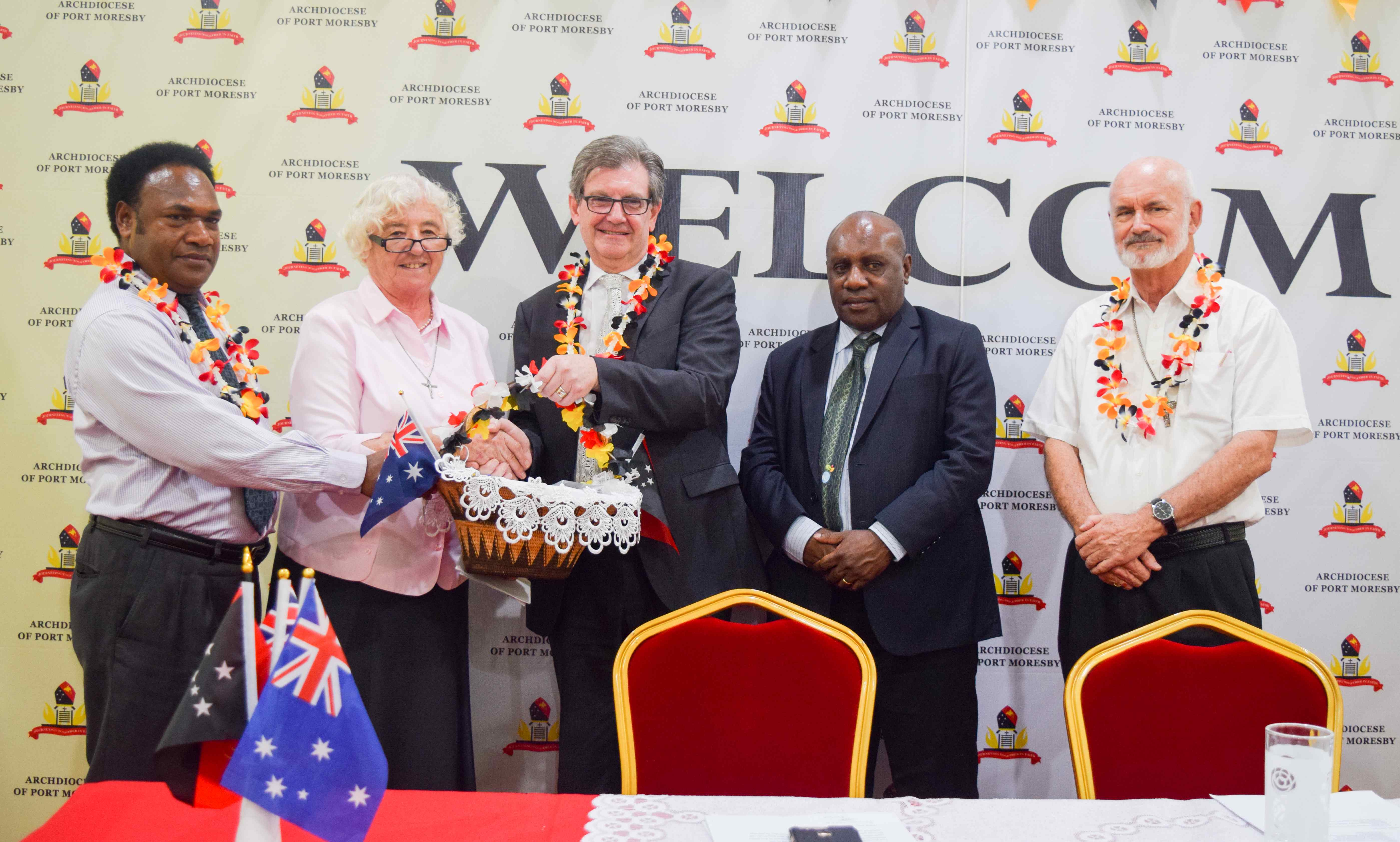 Australian High Commissioner to Papua New Guinea Mr Bruce Davis (centre) receives the basket containing the Incentive Fund agreement with the Catholic Health Services (CHS) from Sr Tarcisia Hunhoff, the Executive Director of CHS, witnessed by National Department of Health Secretary Mr Pascoe Kase (left) and Department of National Planning and Monitoring Deputy Secretary Mr Kelly Kabilo (second from right) and Archbishop Douglas William Young of the Diocese of Mt Hagen.