Ten of Australia's most venturesome students from James Cook University have visited a village in Western Highlands Province to live among the people and learn more about their language, culture and way of life.
Their visit last month to Kunguma Village, a half-hour drive out of Mt Hagen, was funded through the Australian Government's New Colombo Plan which is offering Australian students the opportunity to study and learn more about their neighbours in the Indo Pacific Region including in Papua New Guinea.
Student Melisa Scalon said: "This experience has shown me how hard-working the people in Kunguma Village are in dealing with their day-to-day development challenges. They have beautiful hearts and have been welcoming and warm and protective to me and the other students.
Local host Bernadine Danomira said: "The most important thing for me has been to share and showcase our culture to the outside world. I want to have an exchange where students come here and tell us a little bit about themselves and our community learns about them, and they can also learn about us."
Professor Rosita Henry who accompanied the students said the visit helped them to gain a better understanding of Papua New Guinea which will set the groundwork for potential future business relations, political and diplomatic ties and cultural engagements between the two countries.
"The New Colombo Plan has really allowed our students to open up their eyes and give them a better understanding about their neighbour (Papua New Guinea)" she said.
Students learned about local culture by participating as much as possible in their way of life, an anthropology technique called participant observation. The time in Papuan New Guinea provided insight and new perspectives that will increase the value of the learning that students have undertaken at James Cook University in Australia.
"It is really important for the students to get a grassroots understanding of the local level, so we matched up each student with a mentor from the village so that they could learn about their mentors' lives," she said.
While in Kunguma Village, students helped to build a 'haus man' (men's house), had a bilum-making (bag-making) session with women around a fire place, prepared mumu (food cooked with hot stones), witnessed a pig-killing ceremony, and enjoyed a bilas (traditional dress) day.
Throughout their time in Kunguma Village, students also had daily 'tok pisin' classes and learned research techniques while focusing on various essay topics including governance, gender and development issues, councillor-level politics, bilum-making and gardening.
"The New Colombo Plan has achieved the dream I had for people from both our countries to share experiences and learn from each other. I am interested to see what the students have learned through the essays they are writing about their experiences," said Ms Danomira.
At a launch event in Canberra last night, Australia's Minister for Foreign Affairs Julie Bishop announced a prestigious New Colombo Plan scholarship will be provided to a talented Australian student to undertake an internship at the University of Papua New Guinea.
The New Colombo Plan is a signature initiative of the Australian Government to lift knowledge of the Indo-Pacific in Australia by supporting Australian undergraduates to live, study and undertake internships in the region.
For further information, including access to related materials, please contact the Australian High Commission media team: +675 7090 0100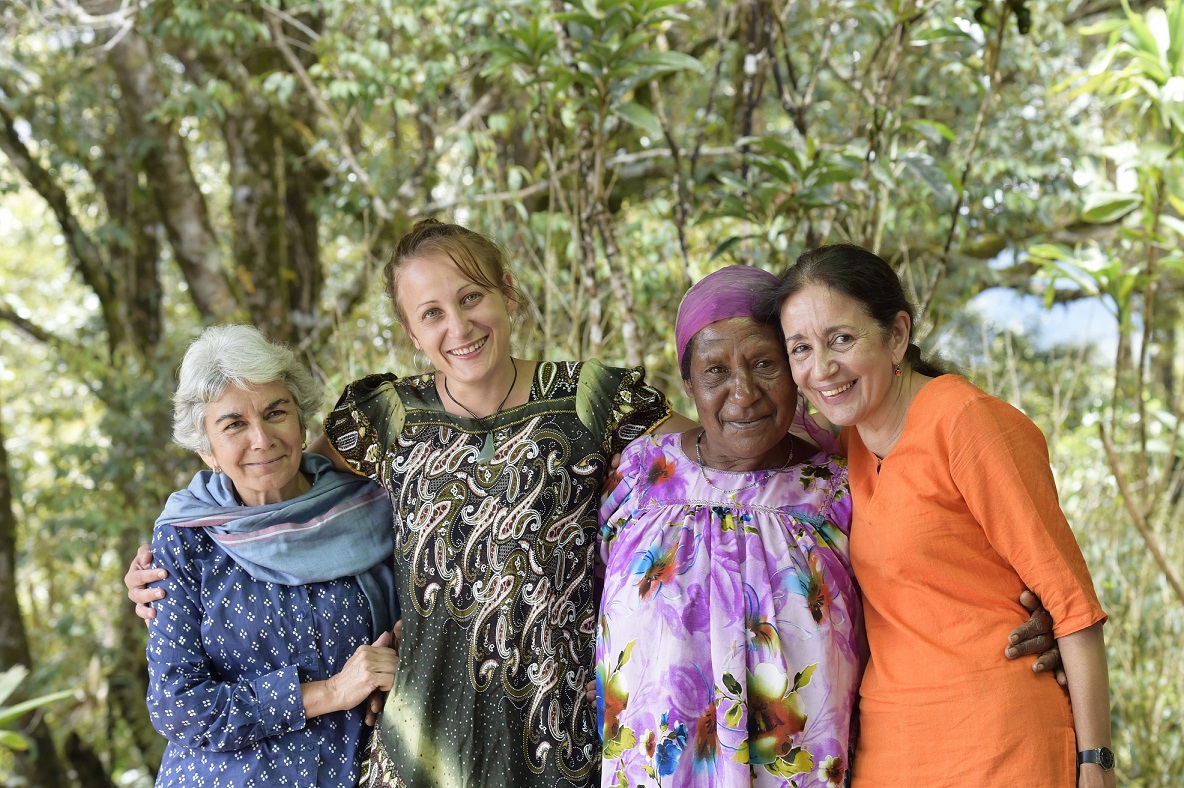 James Cook University visitors (L-R) Workshop tutor Rosemary Rusch, student Melisa Scalon, with Kunguma villager Pen Rosa and Professor Rosita Henry.