Australian High Commissioner Bruce Davis today announced Papua New Guinea's Australia Awards Scholarship Allison Sudradjat Prize recipients, Ms Ruline Ketauwo and Mr Stanley Raka at a special reception in Port Moresby in recognition of their outstanding achievement.
Mr Davis said "The exceptional commitment of Ms Ketauwo and Mr Raka to improving your work place systems and processes demonstrate true leadership qualities recognised by receiving this Prize, a prize named in honour of a truly exceptional Australian public servant.
"I have witnessed your passion, energy and commitment today and look forward to hearing how these prizes help you to improve development in Papua New Guinea.
"I wish you both the best in your studies next year and I encourage you to make the most of your time while in Australia.
Ms Ketauwo is from the Autonomous Region of Bougainville and works with the Department of Health in the Health Management, Planning and Research Sector in her home province. She will be pursuing a double degree program; the Master of Public Health and Master of Business Administration at James Cook University, Queensland.
"After successfully completing my studies, I will be in a better position to improve the effectiveness and efficiency of managing health programs within the Bougainville Health Department, which is very important in ensuring health care services are delivered throughout my region," said Ms Ketauwo.
Mr Raka from Central Province, works with the Law and Justice Sector Secretariat in National Capital District. He is a Monitoring and Evaluation Practitioner and will be pursuing a Master of Public Policy at the Australian National University, Australian Capital Territory.
"I hope to venture further into policy development, particularly the macro policy associated with sub-national service delivery to advance the drafting of policy documents similar to the General Orders and the Public Finance Management Act of Papua New Guinea," said Mr Raka.
Each year, six outstanding Australia Awards Scholarship recipients (four from Indonesia and two from Papua New Guinea) are awarded the Allison Sudradjat Prize.
This Prize is given in memory of Allison Sudradjat, an exceptional officer of the (then) Australian Agency for International Development who passed away in 2007. Allison was deeply passionate about education as one of the pillars of development. Allison made a major contribution at both the Australian Missions in Indonesia from the early to mid-1990s and from 2005-2007 and in Papua New Guinea from 1996-2001.
For more information about the Australia Awards Scholarships visit http://www.australiaawardspng.org/scholarships/
For further information, including access to related materials, please contact the Australian High Commission media team: +675 7090 0100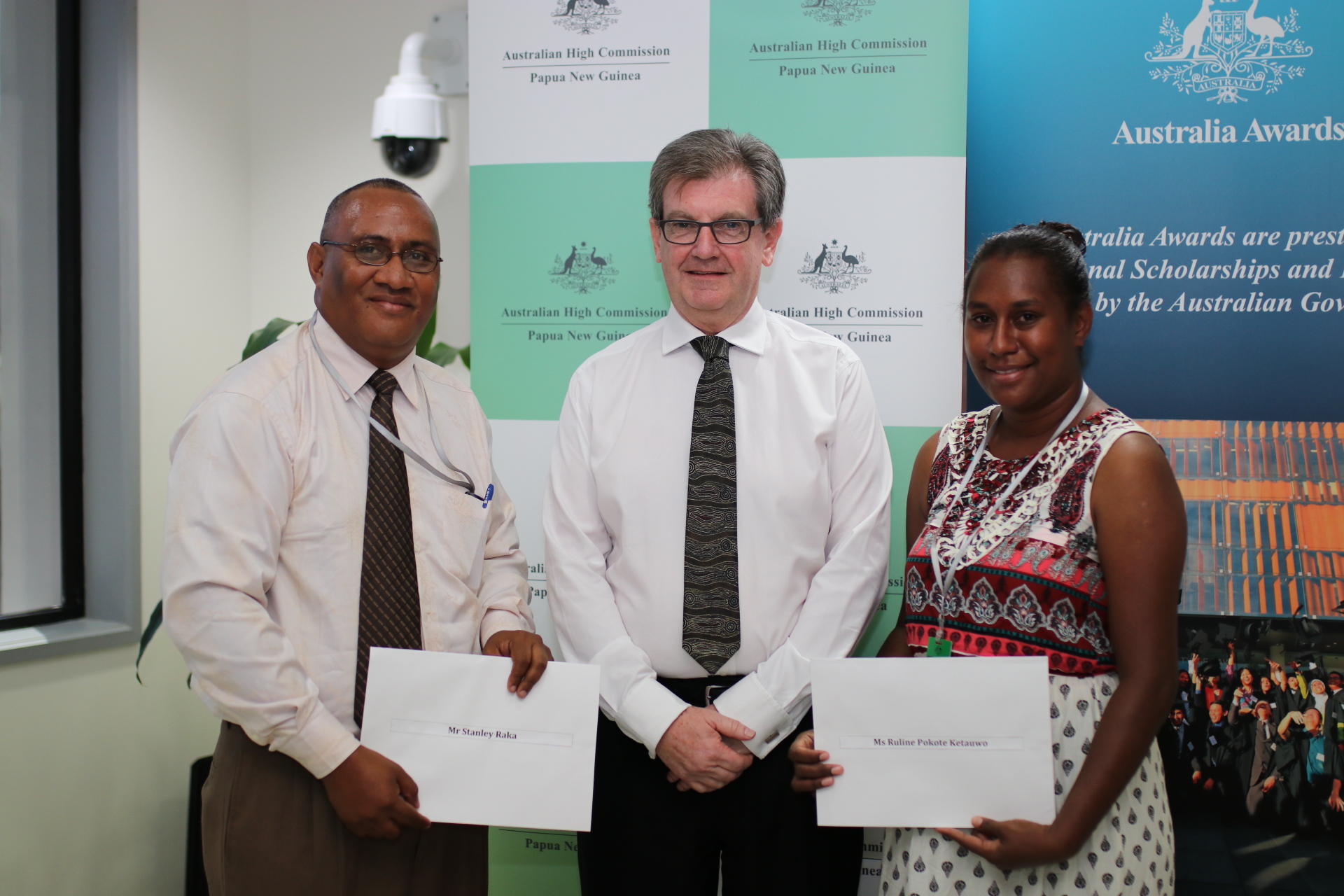 Australian High Commissioner Bruce Davis with Australia Award Scholarship Allison Sudrajat Prize recipients Ruline Ketauwo (right) and Stanley Raka (left.