NCD launches five year strategy to help reduce TB
A new strategy launched in Port Moresby last Thursday will help to reduce the burden of tuberculosis (TB) among many families who have been affected by the disease in the National Capital District.
The strategy titled, 'NCD TB Strategic Plan 2016-2020: Reducing the burden of TB in the National Capital District' outlines practical approaches to prevent, find and treat the disease.
At present, over 6,000 people in NCD contract TB each year and tragically, about a third of these cases include children. The cases in NCD alone represent up to a quarter of all cases seen nationwide despite NCD being home to only 5 percent of the country's population.
The strategy, which will be implemented over five years by NCD Health, will guide practical approaches to not only prevent and detect TB, but to also ensure that all people who contract the disease are given the care and treatment they need in order to be cured.
NCD Health, through its NCD TB Program, will work in close coordination and with support from development partners including the Australian Government, Non-Governmental Organisations, the private sector and community partners to carry out the strategy.
Australian High Commission Counsellor Christine Sturrock said: "The Australian High Commission strongly supports this strategy and will be working closely with NCD Health, the National Department of Health and all partners involved to provide support to implement the plan."
"A key focus of the strategy is targeting the communities most affected by the disease as well as having a strong focus on eliminating drug-resistant strains of TB and providing treatment and preventative care to those most vulnerable from the disease, such as children and people living with HIV," she said.
The strategy sets out ways to make TB services easier to access including by setting up TB-specific health posts in communities with high numbers of TB cases, using new mobile vans with x-rays and laboratories to better find people living with TB, and conducting more household visits by paediatricians and other health providers.
By effectively carrying activities set out in the strategy the NCD TB Program is expected to make substantial gains in improving TB case detection and testing, increasing the percentage of patients' successfully completing treatment, and improving the response to drug-resistant TB.
NCD, as the nation's capital and epicentre for commerce and transport in PNG, is in a unique position to lead the response against TB and serve as a model for other provinces in the country.
For further information, including access to related materials, please contact the Australian High Commission media team: +675 7090 0100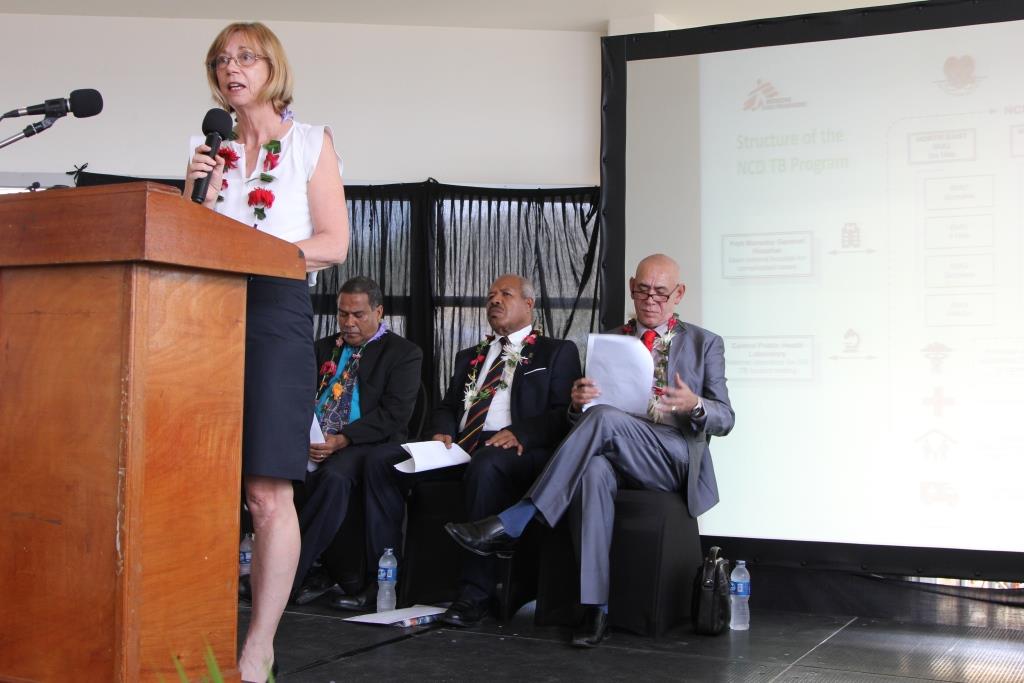 Australian High Commission Counsellor Christine Sturrock giving her speech at the launch.