Consulate-General opens memorial garden for staff
When the Australian Consulate-General in Lae opened in 2017, little did they know how a vibrant and outspoken lady would join the small team a few months later and give life to the Australian post in Morobe's capital, Lae city.
When late Carolyn Pia'afu joined the Consulate, one of the first contributions from her was having potted flowers in the small office setting. Yes she loved flowers and has a good collection of different kinds at her and husband William (Bill) Tomon's resident at the University of Technology.
Carolyn was always smiling, always happy, always encouraging and always willing to go the extra mile to get things done and with her outspoken personality she instantly found her feet in networking and linking Australia's interests in Lae and Morobe Province.
Lae Consul General Paul Murphy recalls Carolyn's tremendous efforts in linking up the Consulate with businesses in Lae and Morobe through various mediums.
"Carolyn was a major contributor in setting up the Consulate office here in Lae. With her big personality and her networking skills she linked the office with many important businesses, partners and organisations." Mr Murphy said. Carolyn was passionate about community engagement and over her life made important contributions such as through the Australia-PNG alumni association, the establishment of the Unitech Alumni Association, to professional development for Papua New Guineans through Toastmasters, and through her church.
Sadly, Carolyn passed away due to complications after giving birth to a beautiful healthy baby boy, William Junior.
Carolyn left behind a loving husband and three beautiful children. She also left behind a gap at the Consulate and the small team.
"She was a - one of a kind - person who brought life and laughter to our office and always speaks her mind and challenges us to keep pushing ourselves" recalls Consular officer Lisa Tuweyo.
"I have worked with so many different people in my life but Carolyn is a totally unique person who never seems to have a bad day and is always positive about life. Even when she was expecting her third child, she was still actively working and getting things done, even though we told her to rest." Public Diplomacy officer Nelson Thom remembers.
On March 15 the Australian Consulate-General in Lae welcomed Carolyn's family to the new office to open a small hanging garden of flowers in Memory of Carolyn's influence and contribution to the Consulate office.
"Carolyn Pia'afu's Memorial Garden" was opened by Mr Murphy and Carolyn's family and is located in the Consulate's cafeteria with very nice views of the Huon Gulf Peninsula and Lae's main wharf, a place where Carolyn previously worked in.
"The memorial garden serves a very meaningful purpose for the office here as Carolyn's contributions set the foundation on which the consulate is now able to work from. It is a reminder of Carolyn to us and of the professionalism she displayed, and also for the family who are welcome to visit" Mr Murphy explained.
Representing the family, Carolyn's father in law Dr Beno Boeha said "In PNG's many cultures there are many ways to remember someone who has passed away. With Carolyn's memorial garden, it really shows what she was to this office and Australia's work in Morobe and PNG and it more importantly signifies that Carolyn was not only a friend to you all but family too."
While many people will come and go at the Consulate, the flowers will grow, bloom, die and get replaced and the cycle continues, but one thing that will always be there and will hold the memories of how the Consulate was established with strong foundations in Lae, Morobe Province will be her own garden - the "Carolyn Pia'afu's Memorial Garden".
For further information, including access to related materials, please contact the Australian High Commission media team: +675 7090 0100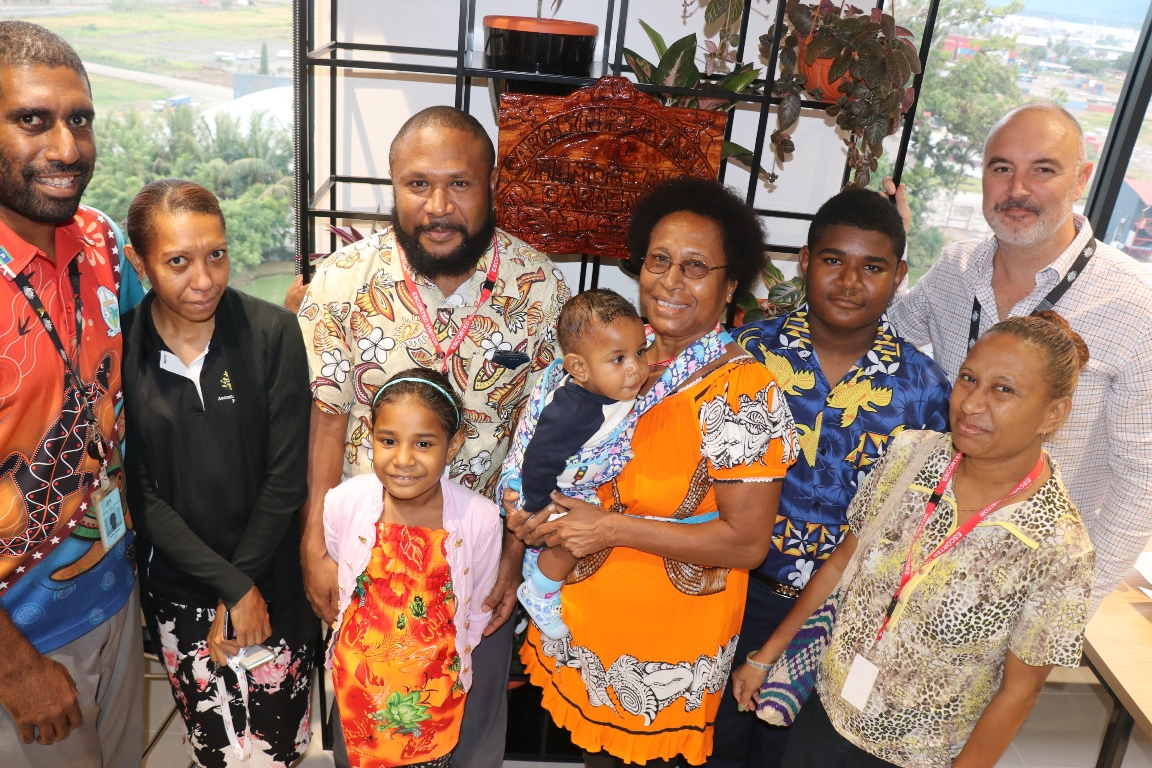 Consule General Paul Murphy (far right), staff of the Consulate and the family of lte Carolyn Pia'afu at the newly opened Memorial Garden.