Papua New Guinea and Australia have agreed on a Climate Change Action Plan, which reaffirms their commitment to work in partnership on addressing climate change challenges.
Papua New Guinea's Minister for Environment and Conservation, John Pundari, and his Australian counterpart, Minister for the Environment and Energy, Josh Frydenberg have both signed the Papua New Guinea-Australia Climate Change Action Plan.
Through this agreement, both countries acknowledge their mutual commitment to implementing the Paris Agreement, which reinforces stronger regional cooperation to address climate change risks whilst also contributing to mitigating climate change.
Under the Action Plan, Australia will continue to support Papua New Guinea to implement its commitments under the Paris Agreement. This will include enhancing the capacity of Papua New Guinea's Government institutions to implement climate change policies and to access international financing. Support will also focus on strengthening the resilience of rural communities and building climate smart infrastructure in Papua New Guinea.
Papua New Guinea and Australia will also establish an Annual Dialogue on Climate Change to share lessons from their domestic actions including reviewing activities under the Action Plan and identifying areas for cooperation on the regional and international agenda. In addition, the two countries will continue to work together to articulate and advance the climate change agenda on the international stage.
Minister Pundari was delighted to formalise Papua New Guinea and Australia's long standing partnership on climate change through the Climate Change Action Plan.
"Papua New Guinea faces major challenges in addressing the effects of climate change. We look forward to an even deeper partnership with Australia to address these challenges through this agreement," Minister Pundari said.
Minister Frydenberg is looking forward to working with Papua New Guinea
"This is a real opportunity for Australia and Papua New Guinea to partner together to provide a strong voice for the Pacific on climate change. Australia and Papua New Guinea face unique challenges as a result of climate change – this is a fantastic opportunity to work together to address them," Minister Frydenberg said.
This new agreement provides a comprehensive framework to build on the strong record of collaboration through a growing portfolio of high impact investments.
For further information, including access to related materials, please contact the Australian High Commission media team: +675 7090 0100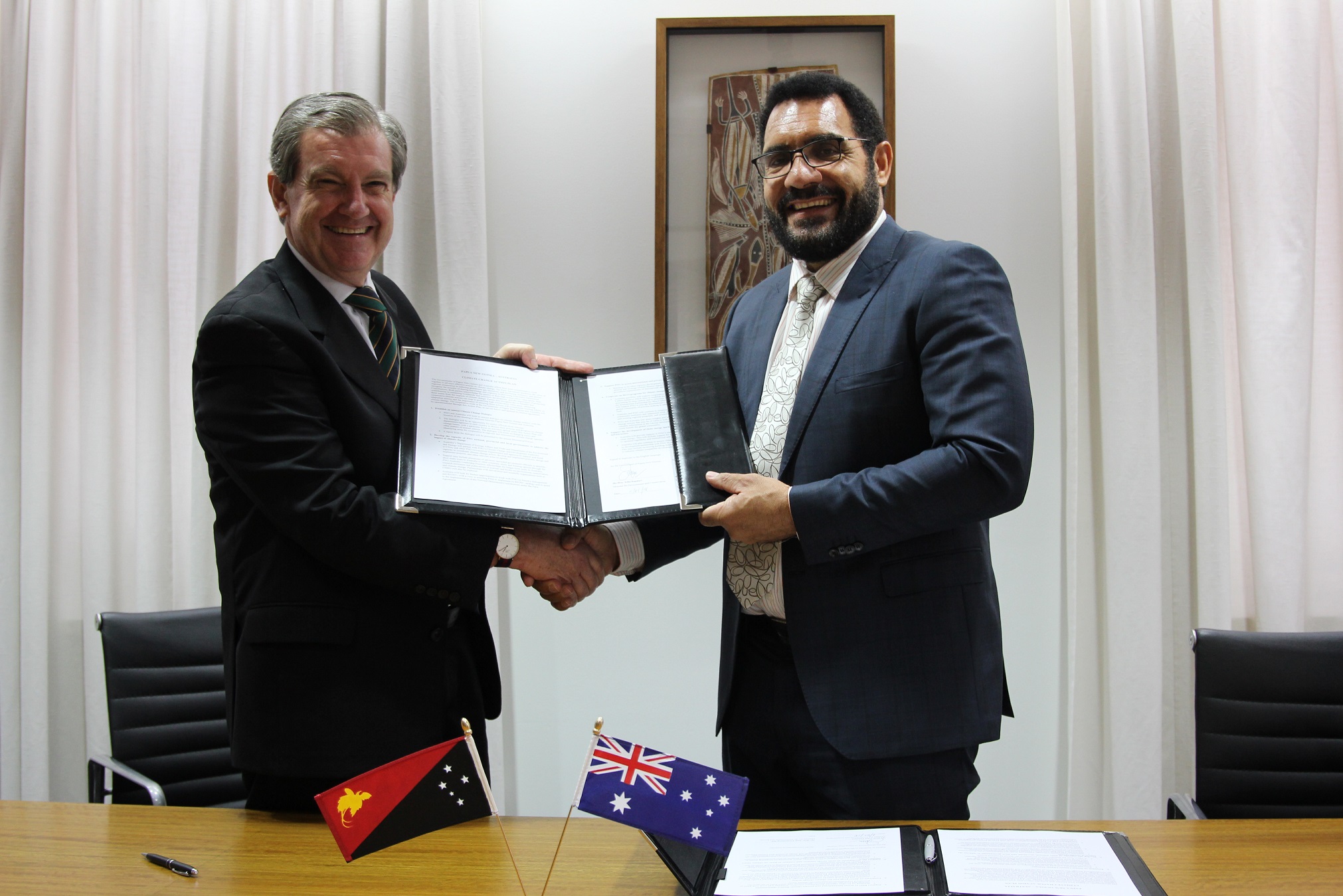 Minister for Environment and Conservation John Pundari (right) handing over the signed documents to Australian High Commissioner Bruce Davis in Port Moresby recently.