Support to Highlands earthquake response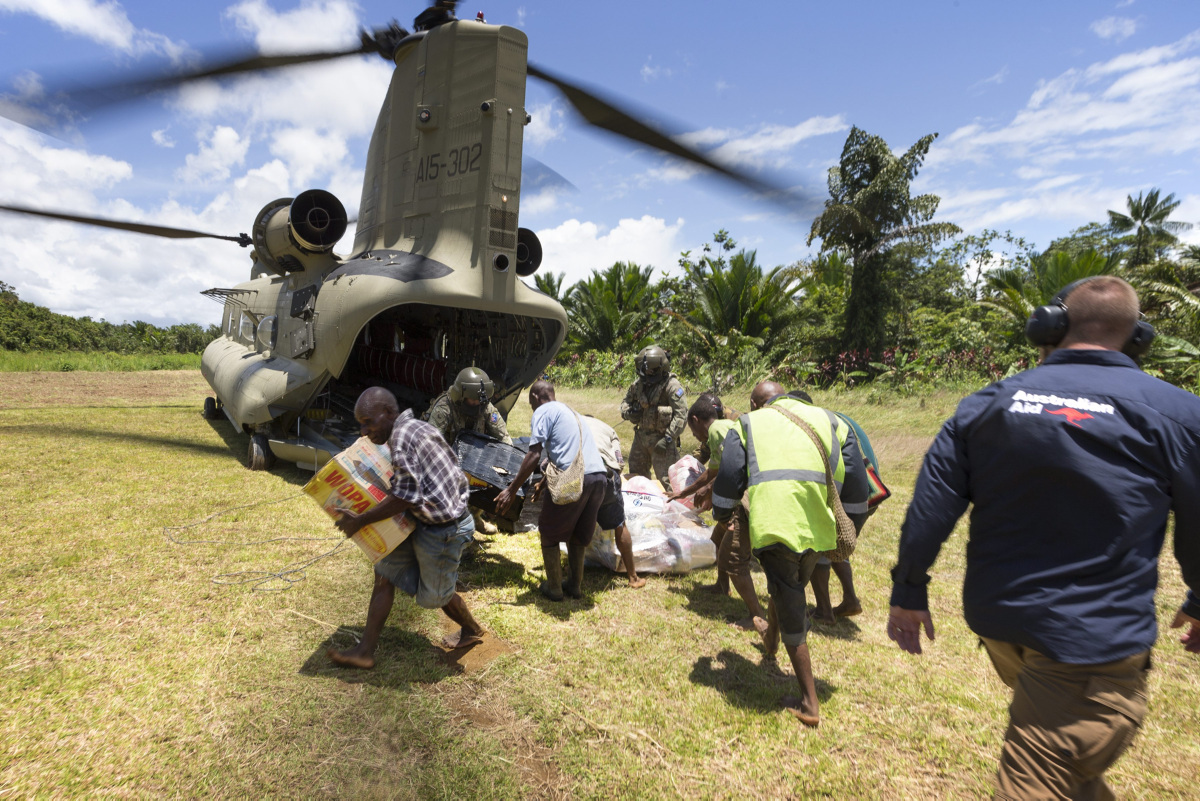 Australia is supporting the ongoing relief effort in the Highlands after the devastating 7.5 magnitude earthquake on 26 February and associated aftershocks. Australian Defence Force assets, including three CH47F Army Chinook helicopters and an Australian C130J transport aircraft, are distributing much-needed humanitarian supplies to communities who need them. Supplies include purification equipment to ensure water is safe to drink; tents and sleeping mats to house families whose homes were destroyed; and electrical transformers to re-establish power supply in affected homes and businesses.
We are also assisting with damage assessments through the Department of Works; supporting vulnerable women and children in the affected area in partnership with UN agencies; and by providing humanitarian and logistics specialists to coordinate relief efforts with the PNG Government. Australia is also working closely with international agencies and corporate foundations to ensure our aid reaches those who need it most. More information is available in the Highlands earthquake factsheet.
Welcome
Welcome to the website of the Australian High Commission in Papua New Guinea. We hope you find this website useful and informative.
Australia is a close friend and partner of PNG. Our relationship is strong on many levels. It is born of history and geography and covers the full range of bilateral interests. Close partnerships exist between governments, businesses and people in both countries.
The Australian Government shares a common aspiration for a stable and prosperous Papua New Guinea. Our assistance is designed to help the PNG Government achieve its key development goals.
Australia itself is a stable, democratic and multi-cultural society with a strong competitive economy and a tradition of scientific and innovative excellence. The quality of life enjoyed by people in Australia is one of the highest in the world. This website contains more information for people interested in going to Australia.
We would like to encourage all Australian citizens and permanent residents in PNG to register with the Australian Government through the High Commission or Smartraveller at www.smartraveller.gov.au.
Registering with the High Commission is beneficial and easy. The registration information provided by you will help us to find you in an emergency. It may also be used to pass other information to you such as new Travel Advisories, notice of elections, and important information relevant to travellers and expatriates.
Registration must be self-motivated. There is no automatic registration when you get a passport, a visa or a job in PNG. Long term residents should regularly check to see if their registration is current.
If you wish to register or if you think that your registration may have lapsed please call the High Commission on +675 7090 0100 or send an e-mail to consular.portmoresby@dfat.gov.au to request a registration form. You can also register online at www.orao.dfat.gov.au. When doing so please include your email address.
For visa enquiries please send an email to the visa office immigration.port-moresby@dfat.gov.au or the visa service provider ttsportmoresby@ttsvisas.com.
Latest news​