The Australian Minister for International Development and the Pacific, Senator Concetta Fierravanti-Wells, visited Goroka in Eastern Highlands Province, where she met Eastern Highlands Governor Julie Soso MP and partners working to improve support to survivors of violence and increase inclusion for women working in the agriculture sector.
Minister Fierravanti-Wells visited staff at Oxfam and members of the Human Rights Defenders Network and heard about their work in providing emergency support for survivors of extreme and sorcery related violence in the Highlands.
Australia, through Oxfam, and its partners this year helped 332 people, 54 per cent of whom were women and girls, find a safe place to live and rebuild their lives after violence due to sorcery related accusations.
The Minister then met with women leaders from civil society, business and politics and discussed their achievements as well as the challenges women often face in attaining leadership positions.
"I want to pay tribute to the achievement of women who work tirelessly at all levels from national parliament to the village level to improve the lives of women and girls. Australia is committed to working with Papua New Guinea in its efforts to support women in leadership, to ending violence and improving income earning opportunities for women," Ms Fierravanti-Wells said.
Minister Fierravanti-Wells went on to tour New Guinea Highlands Coffee Exports mill and warehouse and tasted coffee with coffee industry managers and women farmers.
Australia, in partnership with CARE International and Papua New Guinea local coffee exporters, is supporting families to grow and farm high quality coffee beans for export.
"This training has benefitted over 8000 men and women farmers in Eastern Highlands. We look forward to seeing the impact of these activities as we continue our partnership to explore and identify niche markets for farmers," Ms Fierravanti-Wells said.
The Minister also visited New Guinea Fruits to look at the bee hives and honey production facility supported by Australia's Market Development Facility.
Senator Fierravanti-Wells' visit to Eastern Highlands is part of a four-day official visit to Papua New Guinea to meet representatives from the Government of Papua New Guinea and to see Australia's partnership with Papua New Guinea on the ground.
"I will be meeting ministers and other senior representatives of the Government of Papua New Guinea to discuss how we can continue to align our development cooperation to Papua New Guinea's priorities and further strengthen our partnership." Minister Fierravanti-Wells said.
For further information, including access to related materials, please contact the Australian High Commission media team: +675 7090 0100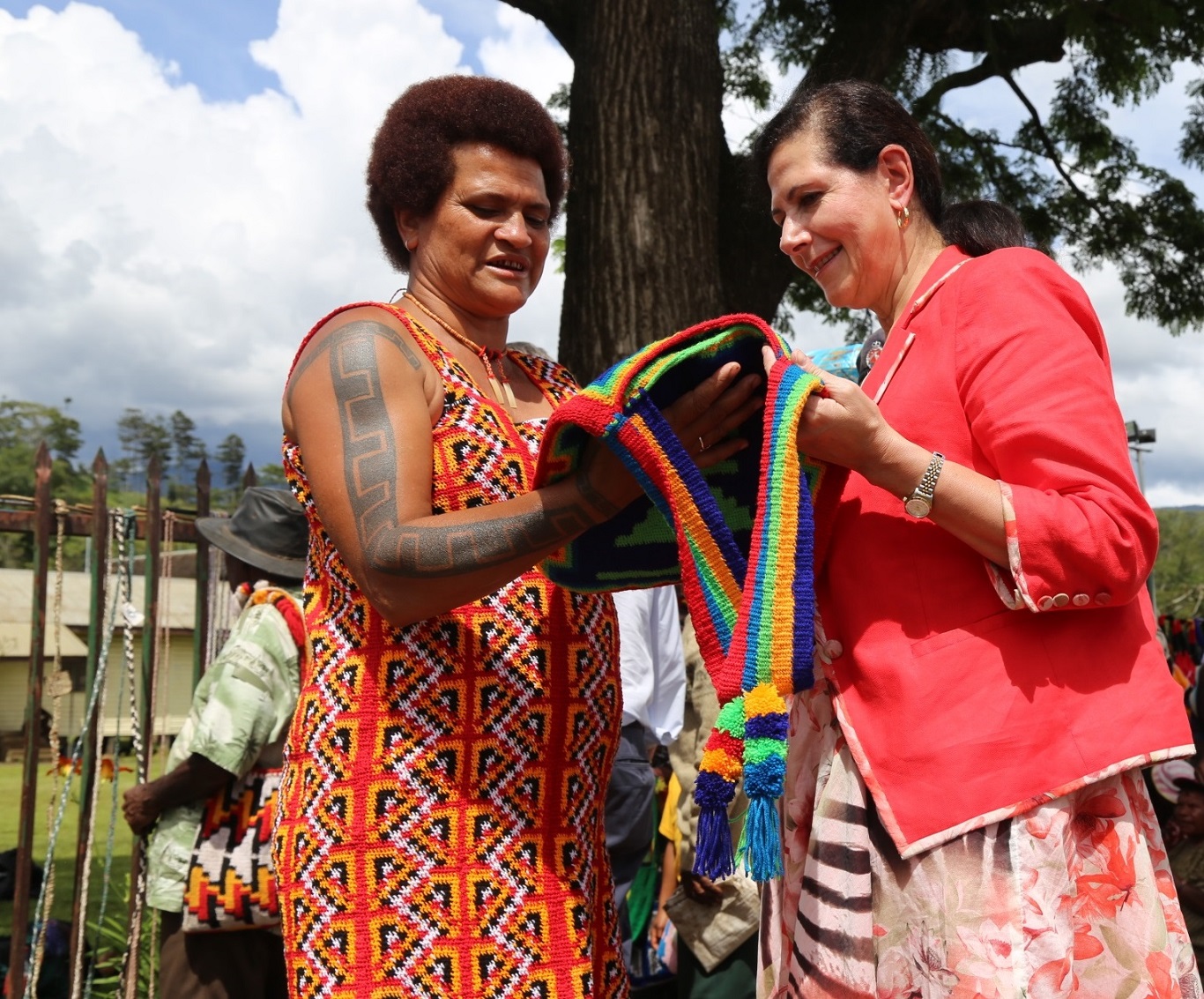 Australian Minister for International Development and the Pacific Senator Concetta Fierravanti-Wells touring the Goroka bilum weavers with Managing Director of Weavers Collective, Ms Florence Jaukei Kamel.