More than 100 women have participated in the WECREATE Challenge Extreme-Build-a-Business Workshop in Port Moresby.
The women received coaching and mentoring from WECREATE founder Sean Griffin and a host of successful Papua New Guinea business people.
The challenge attracted 111 applicants from the National Capital District and Central Province.
Twenty-five of the most promising entrepreneurs moved onto the next stage of the program, receiving six months of support to help get their business idea off the ground, or grow their existing business.
The WECREATE Challenge is supported in Papua New Guinea by the Australian and United States' Governments, and is aligned to the Government of Papua New Guinea's policy priority to establish 250,000 new small and medium enterprises.
It is based on a proven international model that has been delivered in 60 countries, helping to create more than 4000 businesses and create 40,000 jobs.
Deputy Australian High Commissioner Bronte Moules said the Australian Government was committed to working in partnership with the Government of Papua New Guinea to help it grow its economy and create opportunities for women.
"We know through practical experience, but also through the research, that there is no doubt that any community is richer where women have the same opportunities as men to find jobs, to earn an income and to participate in the community freely," Ms Moules said.
"Women's empowerment is, quite simply, a key driver of sustainable economic growth and development and stability. Countries that have more equality have greater economic growth."
The WECREATE Challenge helps women gain the skills they need to bring their business ideas to fruition by helping them to test their business assumptions, refine their ideas and plan for business growth.
It aims to help women to become more economically empowered, and to support the development of a sustainable entrepreneurial ecosystem in which women's business ideas can thrive.
One of the WECREATE Challenge mentors, Rita Kare, started her business – the Goroka Steakhaus – by selling scones on the street. She now has a 200 seat restaurant, conference centre and hotel.
She urged the women to have self-confidence, motivation and the willingness to embrace challenges that would arise along the way.
"My simple message to my local female business aspirant is this: 'You can get it if you really want it. But you must try. And if I can do it, you can do it'."
It's expected that future rounds of the WECREATE Challenge will be held elsewhere in Papua New Guinea.
The Challenge generated significant interest in its first round due to a successful Facebook campaign, and the support of the Women's Business Resource Centre, in Hohola.
Sean Griffin said the Papua New Guinea participants shared the same hopes and dreams as participants from across the world.
"We are all similar in life. We all want to have our own independence, our own freedom, our own ability to take care of our families," he said.
"Running your own business is one of the most profound and rewarding ways to make that happen."
He warned the participants their entrepreneurial journey would not be easy.
"Starting a business and building a business is a lot like a video game. You just get to a new level and it gets harder.
"It doesn't get easier. And that's good. Because it stretches and helps you grow."
For further information, including access to related materials, please contact the Australian High Commission media team: +675 7090 0100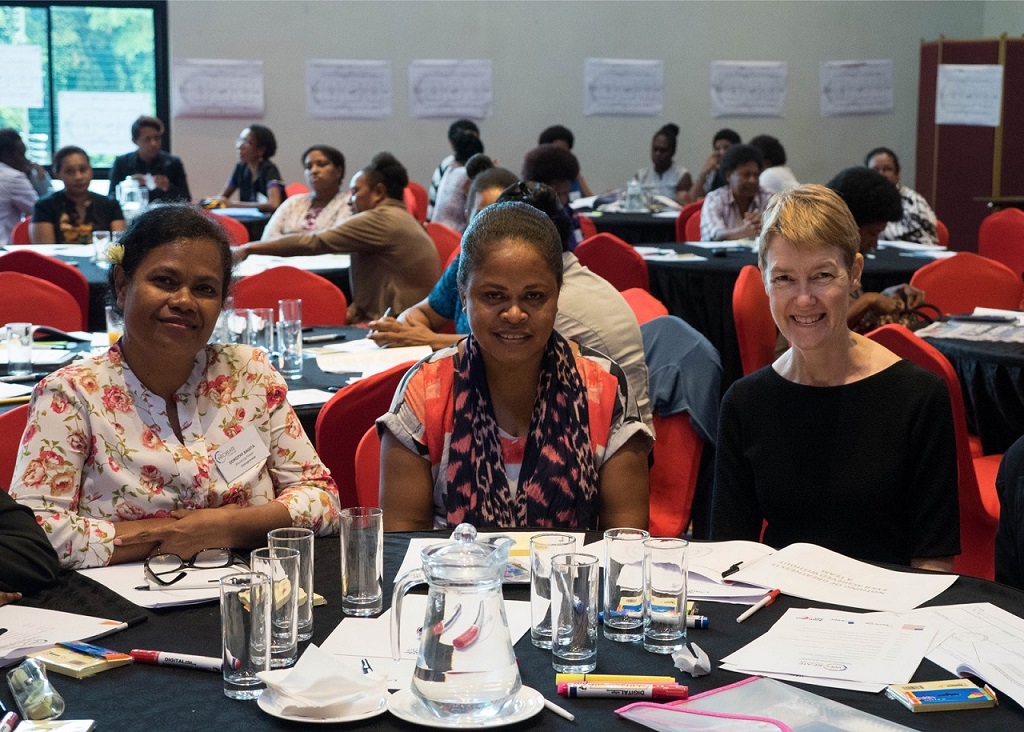 Deputy Australian High Commissioner Bronte Moules with participants at the Workshop.