The reinvigorated National Narcotics Bureau is stepping up national efforts to raise awareness on the use and misuse of alcohol, prescription medications and illicit drugs, and to control their production and consumption.
In one of its first major actions under the leadership of recently appointed Director-General Nichodemus Mosoro, the Bureau helped thwart an alleged counterfeit manufacturing operation in Port Moresby with a team of PNG Government officials.
Mr Mosoro said the crackdown was an example of the interagency cooperation and coordination the NNB will bring to tackling issues involving the production, trafficking and use of alcohol, drugs and illicit substances.
The Bureau's long-standing mission has been to raise awareness on the harm caused by the abuse of alcohol and drugs, improve access to rehabilitation and support services and to support the enforcement of laws controlling the quality and distribution of prescription drugs and prohibition of illicit substances.
Last year the Bureau's drug and alcohol awareness program conducted presentations at more than 40 primary and secondary schools and technical institutes, reaching almost 60,000 students. The NNB is gearing up to reach more schoolchildren this year.
"We cannot get enough awareness," Mr Mosoro said.
"Because of the level of illiteracy we have in this country [about drugs], and because of the increase in substance abuse in our schools, that is the priority for us."
Mr Mosoro said the Bureau was also focussed on supporting the enforcement of PNG's drug control laws.
"A big part of our role is going to be to ensure a high level of coordination [between government agencies], and the bust up at 8 Mile on cigarettes is an example of that," he added.
Mr Mosoro said the NNB's high-powered Board, which is chaired by the Secretary of the Department for Justice and Attorney General and includes the Police Commissioner, the Correctional Services Commissioner, the PNGDF Commander, the Chief of Customs and senior Health, Education and Community Development officials, is a great asset to the Bureau in pursuing its agenda, particularly in fostering inter-agency cooperation and supporting drug and alcohol prevention, response and awareness.
"It is a great spread. It reflects the nature of the work. Not just law enforcement, but also to prevent the harmful effects of alcohol and illicit substances."
Mr Mosoro acknowledged the efforts of the PNG and Australian Governments for their combined support in helping to revive the work of the NNB.
For further information, including access to related materials, please contact the Australian High Commission media team: +675 7090 0100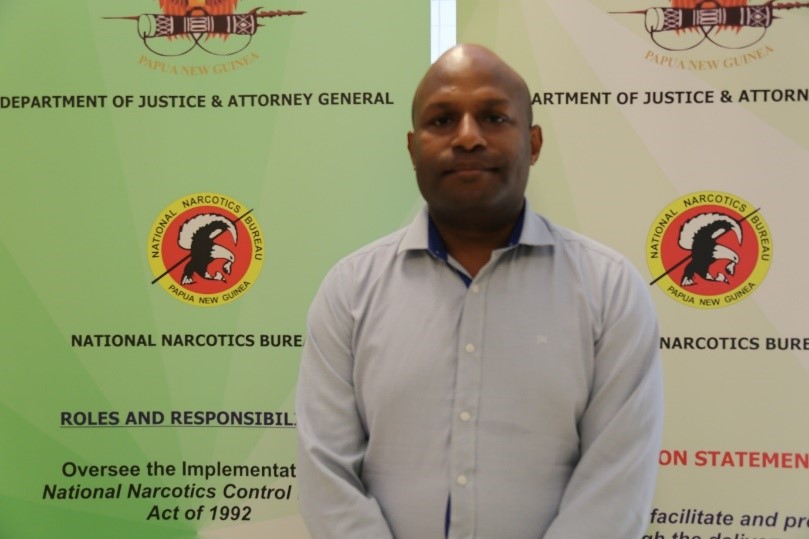 National Narcotics Bureau Director-General Nichodemus Mosoro.