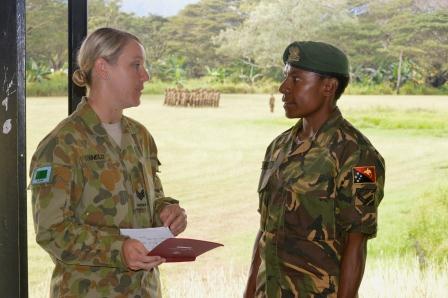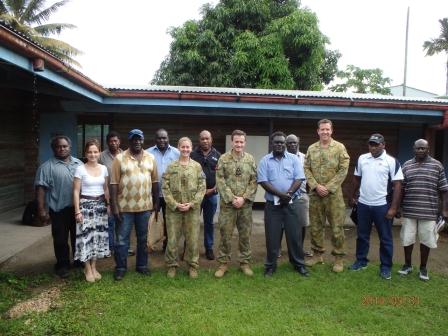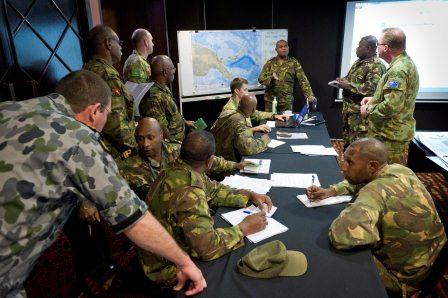 PNG-Australia Defence Cooperation Program
The defence relationship between Australia and Papua New Guinea is a strong and enduring one. It is founded on the bases of history and shared experiences: many current Papua New Guinea Defence Force (PNGDF) units trace their regimental history to Papuan and New Guinea units formed as part of the Australian Army and Royal Australian Navy during and after the Second World War. Defence cooperation between our two countries has grown significantly in recent years, based on a recognition that our security is enhanced by the effectiveness of our defence forces and their capacity to successfully work together.

The Australian Defence Organisation's Defence Cooperation Program (DCP) helps PNG develop an increasingly professional, capable and sustainable PNGDF, to allow our two forces to work effectively together in regional stabilisation, peacekeeping, disaster relief operations and supporting major national projects. The DCP also helps develop a professional and capable PNG Department of Defence that is able to support the PNGDF effectively.

The May 2013 signing of the Defence Cooperation Arrangement (DCA) expresses both countries' desire to deepen practical cooperation under an enhanced DCP and through other practical initiatives in a spirit of partnership. The DCA provides a framework of principles and reference point to guide cooperation. This includes guiding Australia's growing investment and expansion of the enhanced DCP, which entails increasing Australia's financial and personnel investment in supporting PNG Defence. Australia\'s growing investment in the DCP complements the PNG Government's commitment to growing the PNGDF, as set out in the 2013 PNG Defence White Paper.

The DCP spans combined exercises between the Australian Defence Force (ADF) and PNGDF; education and training for PNGDF personnel; assistance to the PNGDF's Maritime Element; capability development; governance and personnel support; joint infrastructure projects and support provided by ADF officers posted to \'in-line\', advisory and liaison positions within the PNGDF and the PNG Department of Defence.

The current Defence advisor to PNG (known in PNG as the Head of Australian Defence Staff – HADS) is Colonel Dick Parker.
The following links provided more information about the Department of Defence (Strategy Executive homepage) and the Australian Defence Force (Defence homepage; Army, Navy and Air Force sites). Media releases concerning Defence Cooperation activities can also be found at the Defence Media Room site.
Strategic Executive

Defence Media Room
Fuzzy Wuzzy Angels Commemorative Medallions
For more information about the Fuzzy Wuzzy Angels Commemorative Medallions, please click on the following link.

Australian Government Department of Veteran\'s Affairs