Two youth programs supported by Australia through the Papua New Guinea-Australia Partnership are helping local youth gain life skills and training to better equip them to secure employment and further their education.
The programs run by two civil society organisations; City Mission and Ginigoada Foundation have provided youth with skills in literacy and numeracy, agriculture, vocational and technical courses and health.
With over half the population of Papua New Guinea aged under 25, young people often struggle to access education and employment opportunities, limiting their engagement in society.
Twenty-four old Belden Dimura entered City Mission's Mirigeda Farm in Central Province last year to escape the life of drug and alcohol abuse back home in Popondetta, Northern Province.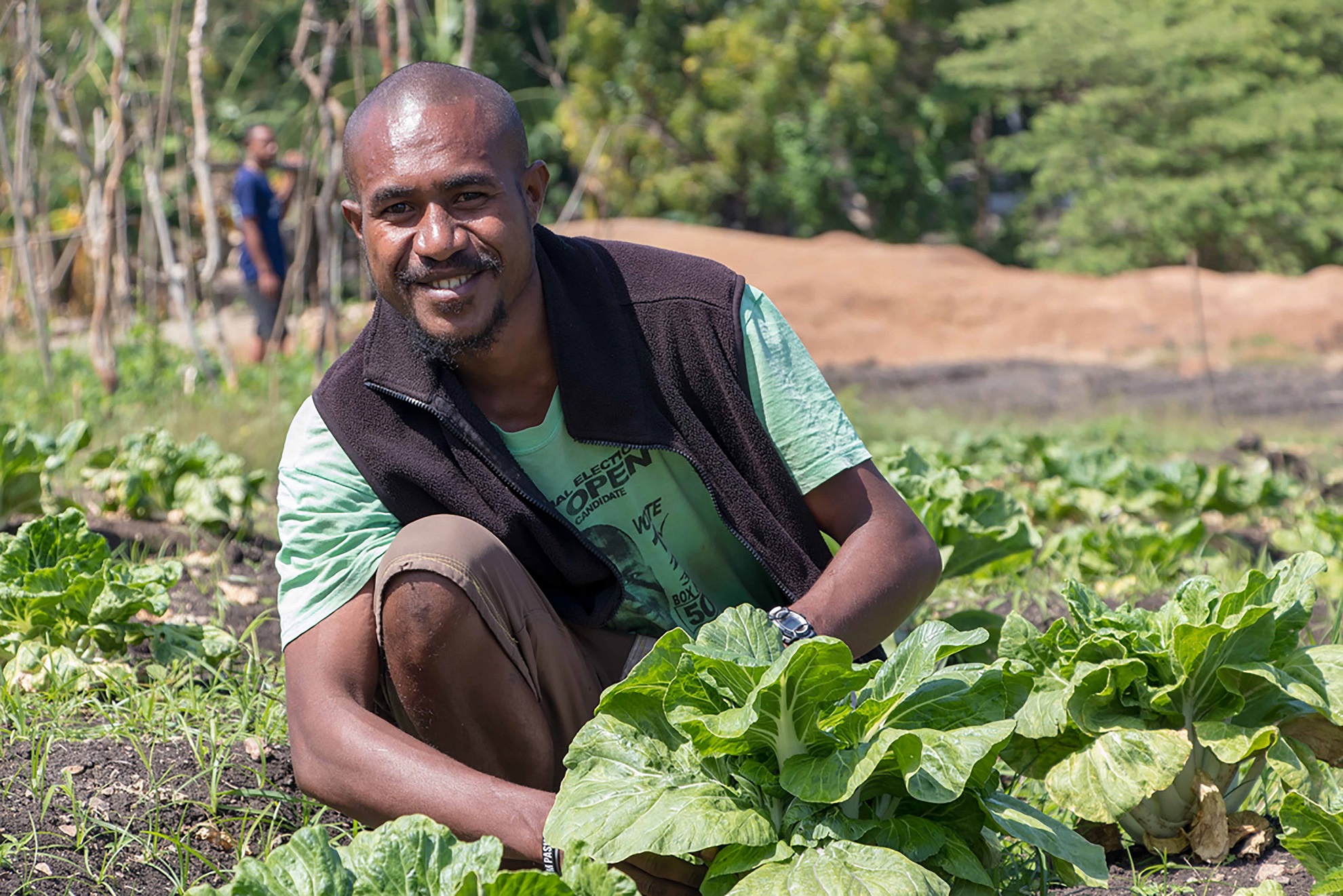 Belden Dimuda in the vegetable garden at City Mission's Mirigeda Farm outside Port Moresby.
"I've always had a keen interest in agriculture. As I go through the program, I have time to clear my mind and find peace that I previously would resort to in drugs and alcohol," said Belden.
Belden enjoys working in the farm's vegetable gardens, especially during harvest time when the food is used to feed over 170 boys living at the farm.
City Mission is a civil society organisation helping young men aged between 18 to 25 make a change for the better by learning literacy and agriculture, animal husbandry, small business management and other vocational courses.
With centres in Port Moresby, Lae and Madang, City Mission has been operating in Papua New Guinea for 24 years. Since 2016, nearly 2,500 young people have benefited from City Mission programs supported by Australia.
Another inspiring story is from Davidson Taupa, a beneficiary of Ginigoada's basic financial literacy training. The 30-year old came to Port Moresby in 2013 but struggled to find education and job opportunities.
In 2017, she attended Ginigoada's basic financial literacy training when the organisation came to her community at Hohola in Port Moresby.
She then enrolled in a business management course through Ginigoada's Multi-Learning Centre and learned office and clerical skills.
With the support of Ginigoada, Davidson was selected for a two-month receptionist placement with the National Broadcasting Commission (NBC) and, based on her outstanding performance, was offered the role.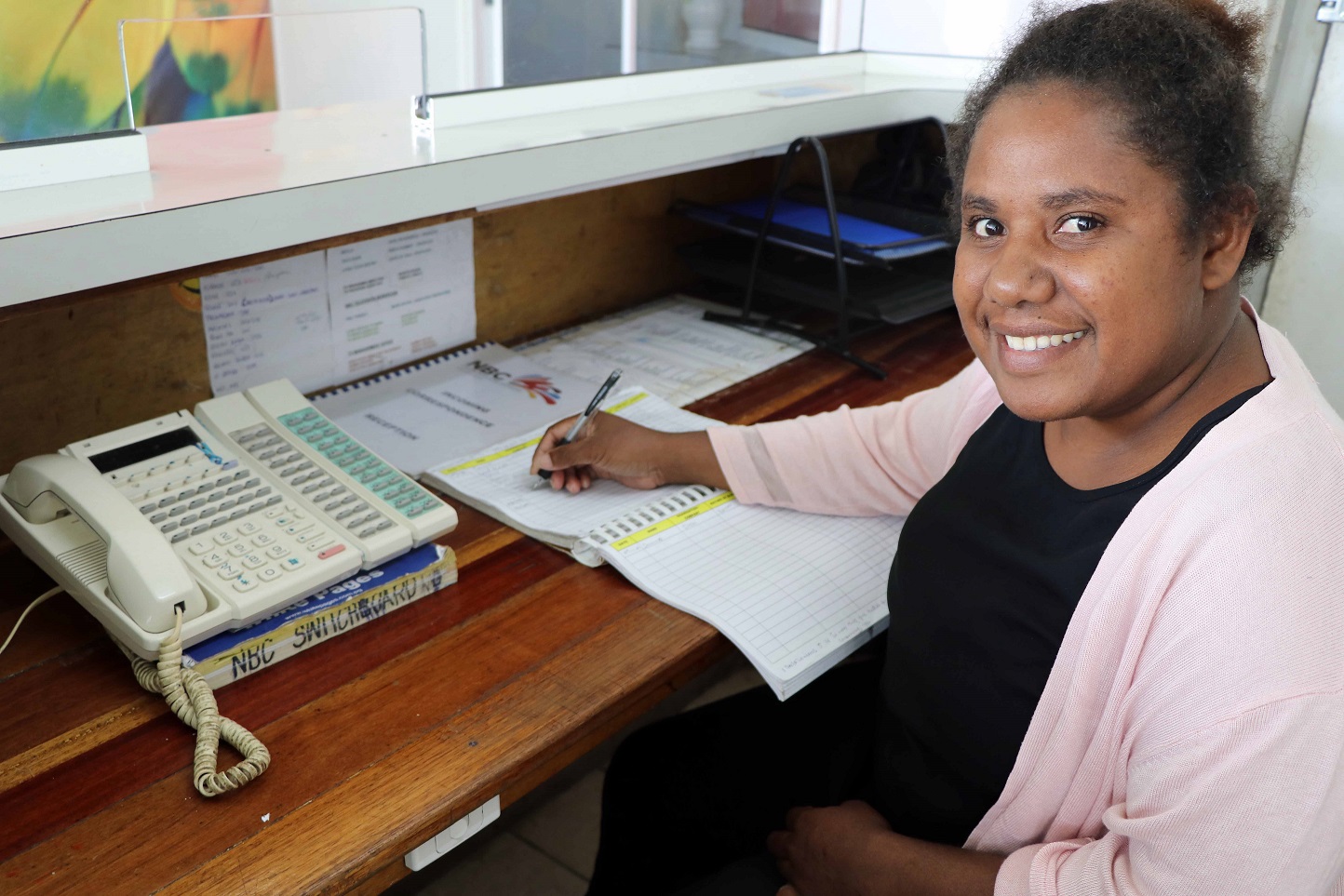 Through Ginigoada, Davidson Taupa learned office skills and is now working for NBC as a receptionist.
"I am very fortunate to find a job and massively thankful for how Ginigoada has helped me and many others," said Davidson.
"I met many new people in one week and was very excited to meet many of the famous radio announcers I heard on the radio."
From the far-flung Duke of York Islands of East New Britain, Davidson is now able to financially assist her family back home.
"My family struggled a lot to give me the education and support to get to where I am today. I often worried about how I would repay their kindness, knowing the struggles of village life. I am thankful Ginigoada has enabled me, so I can now reciprocate my family's support."
Ginigoada Foundation is another civil society organisation supported by Australia that runs mobile life skills courses in some of the most disadvantaged communities in Port Moresby, Lae and Central Province.
Training includes basic literacy, numeracy, cultural diversity and health skills which enable participants to enrol into more advanced technical courses followed by on-the-job training.
For further information, including access to related materials, please contact the Australian High Commission media team: +675 7090 0100