More than 150 students from six Port Moresby schools celebrated International Day of Sport for Development and Peace at Sir John Guise Stadium on Friday 5 April.
Supported by the Australian Government, the PNG National Rugby League's, League Bilong Laif program in partnership with the PNG Sports Foundation set up a fun-filled day to actively promote sport as a positive way of achieving a healthy lifestyle, gender equity and social inclusion.
PNG NRL Country Manager Cathy Neap said sport creates a platform for different children to come together.
"We want to help fight stereotypes and negative norms, so children no longer see each other as different schools, but as another playmate in this environment."
"Our key messages at League Bilong Laif are about promoting respect for others, looking beyond differences and working together. Sport is an umbrella that covers all."
A treat for the children was having players from the SP PNG Hunters team on hand to teach ball handling skills and to reinforce the importance of positive behaviour both on and off the field.
Sixteen-year-old Denzel Simitap from Gordons International School enjoyed the activities and the social messages conveyed on the day.
"I just learned about the Sustainable Development Goals and how different countries are making an effort to end poverty, protect the planet, and ensure that all people enjoy peace and prosperity."
The International Day of Sport for Development and Peace is celebrated on 6 April each year to acknowledge the power of sport in driving social change, community development, and peace and understanding.
Nancy Kalabus a teacher at Nonu Education Institute which participated in the celebrations stressed that sport was a way to not only keep healthy bodies, but also maintain a positive attitude.
"I greatly appreciated how important health and lifestyle messages were broken down for the students to understand, as many were between the ages of 12 and 14 years-old," said Ms Kalabus.
The National AIDS Council, Cancer Foundation and the police carried out open conversations with students on various health and development topics. School fights were also discussed including laws that exist to curb negative attitudes.
League Bilong Laif is supported by Australia and uses a range of rugby league-themed educational and reading materials with school children to promote education, physical fitness, and respect for women and people living with a disability.
For further information, including access to related materials, please contact the Australian High Commission media team: +675 7090 0100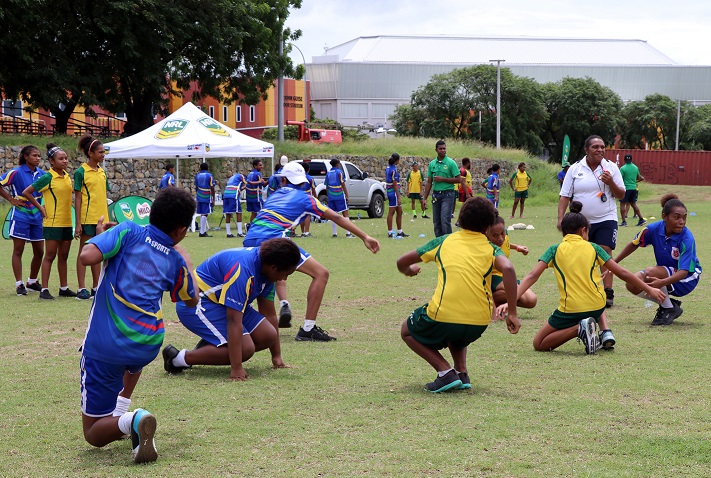 Students participate in activities at Sir John Guise Stadium in Port Moresby to celebrate International Day of Sport for Development and Peace.