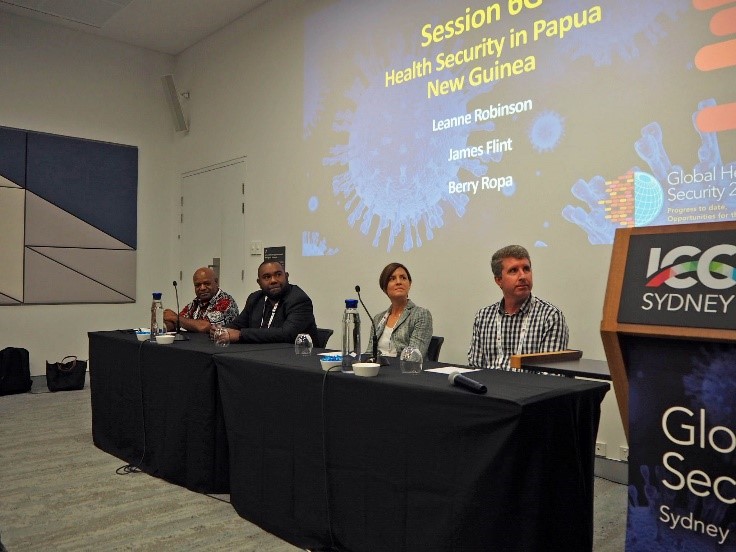 Dr Moses Laman (second left), Deputy Director of the PNG Institute of Medical Research, takes part in a panel discussion on 'Health Security in Papua New Guinea'.
Papua New Guinean officials were given an opportunity to contribute to discussions on the prevention, detection, response and recovery to biological threats in the region at the Global Health Security 2019 conference in Sydney in June.
Through the support of the Australian Government, a nine-member delegation comprising representatives from the National Department of Health, Department of Foreign Affairs, Central Public Health Laboratory, School of Medicine and Health Sciences and the PNG Institute of Medical Research attended the conference held from 18 to 20 June.
The delegates were among 800 members of the global health security community from more than 65 countries who joined in discussions on combating the spread of infectious disease.
"Infectious diseases threaten the health of not just people in PNG, but everyone across the world. Epidemics can easily cross borders and have global consequences requiring collective emergency action," said Dr Evelyn Lavu, Director of the Central Public Health Laboratory.
Dr Paison Dakulala, Deputy Secretary for National Health Services Strengthening at the National Department of Health, delivered a presentation as part of a session on 'Responses to the antimicrobial resistance threat in the Pacific.'
"Sometimes referred to as 'superbugs', antimicrobial resistance occurs when medicines become ineffective against infections – a major threat to the health security of PNG and the world," said Dr Dakulala.
"When people fail to use antibiotics properly, it gives rise to antimicrobial resistance, which we are increasingly seeing in PNG."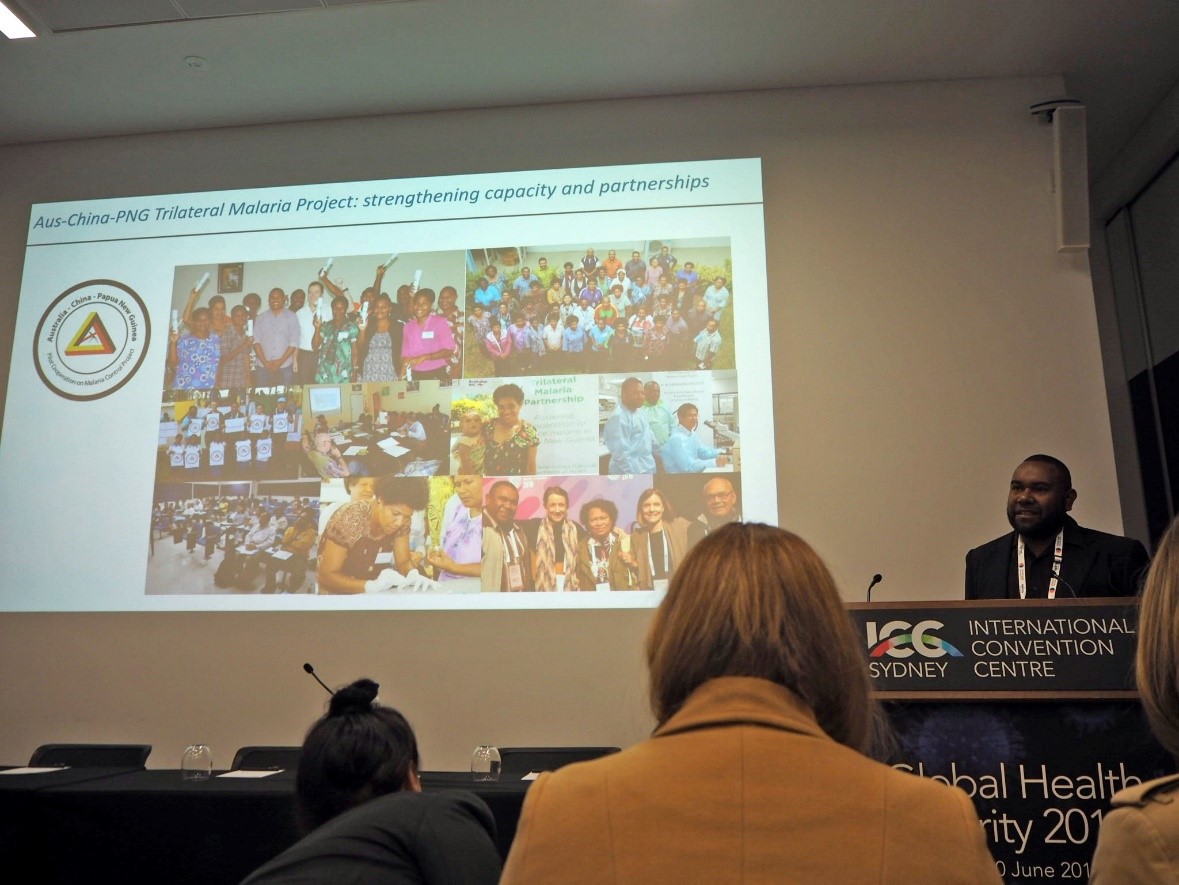 Dr Moses Laman delivers his presentation on malaria in Papua New Guinea.
Australian Government Minister for Health, Hon. Greg Hunt MP, delivered the opening remarks at the conference, which brought together key stakeholders, government officials and international organisations to identify opportunities to enhance national, regional and global health security, with a focus on TB and Microbial Resistance.
Attendees at the conference contributed to the development of the 'Sydney Statement on Global Health Security' which is a set of principles to address global health security threats.
For further information, including access to related materials, please contact the Australian High Commission media team: +675 7090 0276