On 30 July 2019, Australian High Commissioner Bruce Davis and Governor of Western Province Taboi Awi Yoto joined together in the Middle Fly District of Western Province to officially launch the PGK9.87 million upgrade of the Bosset Sub Health Centre, delivered under the PNG-Australia Partnership Incentive Fund.
Through the Incentive Fund grant, the Bosset Sub Health Centre, which is owned and operated by Catholic Health Services Kiunga, will be brought up to a Level 3 standard. This will improve healthcare for the approximately 14,000 people living in the catchment area. Provision of quality health services in this area is challenging because of its geographical remoteness, limited access to clean running water, and lack of sterile equipment and other vital resources that impact service delivery.

A number of new facilities will be built with the grant. These include inpatient and outpatient wards, a procedure and clinical treatment room, maternity, tuberculosis and HIV/AIDS wards, a dental clinic, radiology facility, staff houses, incinerator and workshop.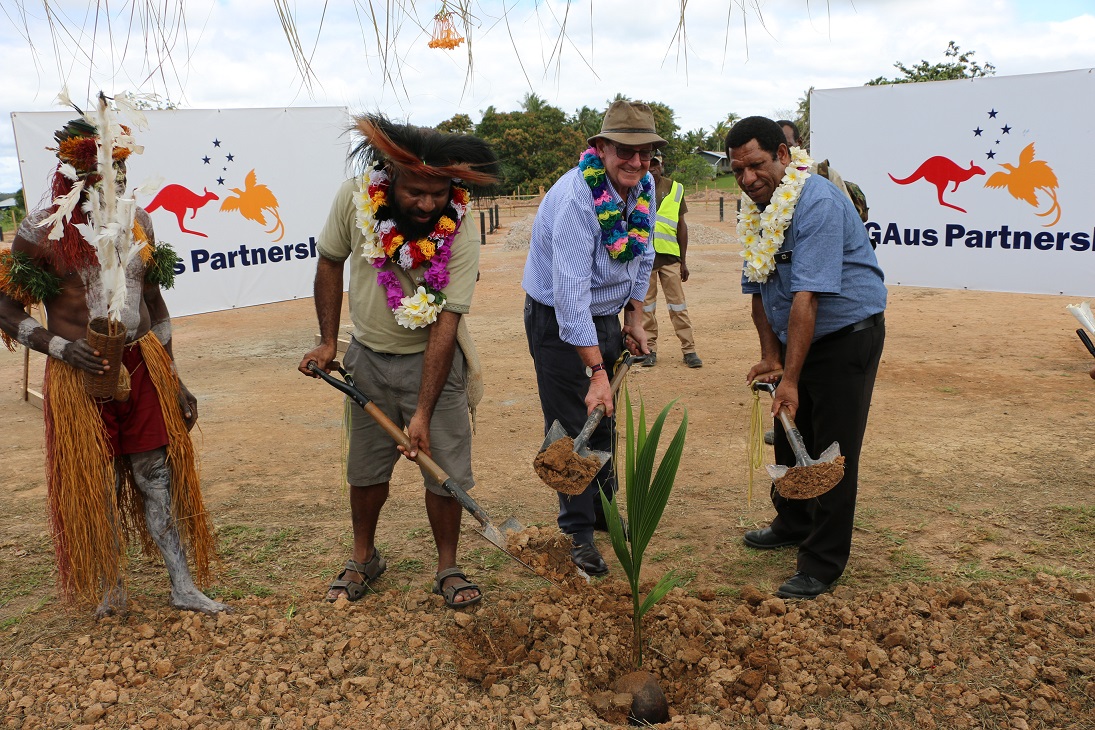 From (L-R): Western Governor Taboi Awi Yoto, Australian High Commissioner Bruce Davis and Fr Andrew from the Catholic Health Services-Kiunga officially launching the project.
High Commissioner Davis reinforced Australia and Papua New Guinea's shared commitment to strengthening health services in remote and rural areas of Papua New Guinea.
"In the time I've spent here in PNG, I know how important it is to invest in rural healthcare, particularly here in Western Province where maternal and child mortality and TB are significant challenges. For Australia, this is a crucial priority in our partnership with the Government of Papua New Guinea."

For some communities along the Fly River in Western Province, accessing vital healthcare can mean an expensive and difficult 12-hour boat ride to the nearest hospital. For expectant mothers, this can be a life-threatening journey.

Improving the health of women and girls will be a key outcome of the project, which will increase supervised births, improve antenatal and postnatal service provision, and significantly reduce the risk of maternal and infant mortality by bringing services closer to communities. People with disabilities will also receive specialised treatment.
All members of the community will have access to improved HIV/AIDS and tuberculosis diagnosis and treatment. In addition, there will be much improved access to child immunisations.
High Commissioner Davis noted, "By completion of this project, it's expected that staff numbers at the Bosset Health Centre will increase from five to 13, which will ensure patients receive quick and reliable treatment, as well as provide jobs for health professionals here in the community."
The PNG-Australia Partnership is proud to work together with the Government of Papua New Guinea and Catholic Health Services Kiunga to support this much‑needed project to boost health services in the Middle Fly District of Western Province.
For further information, including access to related materials, please contact the Australian High Commission media team: +675 7090 0276