Over 500 people in West Sepik Province will now have access to agriculture training and education services through two new multipurpose centres and a refurbished Local Level Government (LLG) chamber office.
The facilities, which were supported by the Papua New Guinea-Australia Partnership, will help improve service delivery and provide economic opportunities for the people of Nuku.
These facilities will be centres of training, with a focus on increasing women's involvement in community and government decision making.
The LLG chamber office is designed to boost the capacity of the District Development Authority and District Administration to better respond to the needs of locals at the District and Ward level.
The facilities were officially opened on Sunday 25 October by Australian High Commissioner Jon Philp and Vice Minister for Finance & Rural Development and Nuku MP Joe Sungi at the Maimaiwanwan station.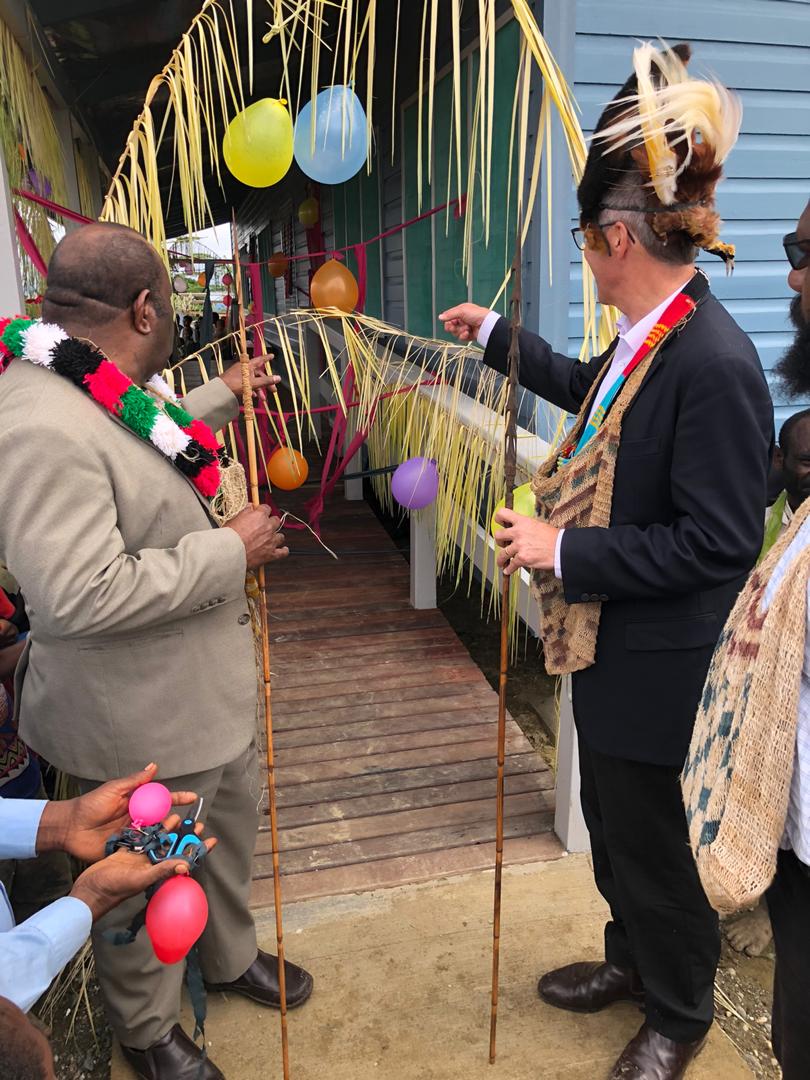 Australian High Commissioner Jon Philp (right) and Vice Minister for Finance & Rural Development and Nuku MP Joe Sungi prepare to open the new facility.
Speaking at the opening, Vice Minister Sungi emphasised the importance of supporting communities in Nuku.
"It doesn't matter where you live in PNG – you should be able to access the services you need."
"People will be able to come to these facilities to get advice with farming to grow more and different types of food, support for new business ideas, or to access other government services. "
The High Commissioner said the Papua New Guinea-Australia partnership is committed to supporting important economic sectors such as agriculture, and projects to improve service delivery and governance.
"Australia is a strong supporter of PNG's efforts to deliver better services in provinces and districts – most Papua New Guineans live in remote places like Nuku, and developing these places is just as important as developing the main towns.
I am delighted that the Australian Government has been able to co-fund these facilities with Nuku as part of our partnership with the Government of Papua New Guinea and the Nuku's district government."
The opening took place during the High Commissioner's first trip to West Sepik.
For further information, including access to related materials, please contact the Australian High Commission media team: +675 7090 0100