Feature Story 28 July 2023
Old friends reunite on task in PNG
The intertwining careers of two naval officers from Australia and Papua New Guinea continues to demonstrate the value of enduring friendship.
Australian Defence Vessel (ADV) Reliant's Navy liaison officer Lieutenant Commander Brenton-James (BJ) Glover and Commanding Officer HMPNGS Cape Gloucester Lieutenant Bryan Pohai were excited to have the opportunity to work together once again on a stores delivery to Manus Island.
ADV Reliant delivered stores including Australian Army vehicles and other equipment in support of the upcoming military Exercise Puk Puk.
Exercise Puk Puk is an annual engineering exercise involving military personnel from Papua New Guinea, Australia, the UK and other partner nations and will be held on Manus Island in September.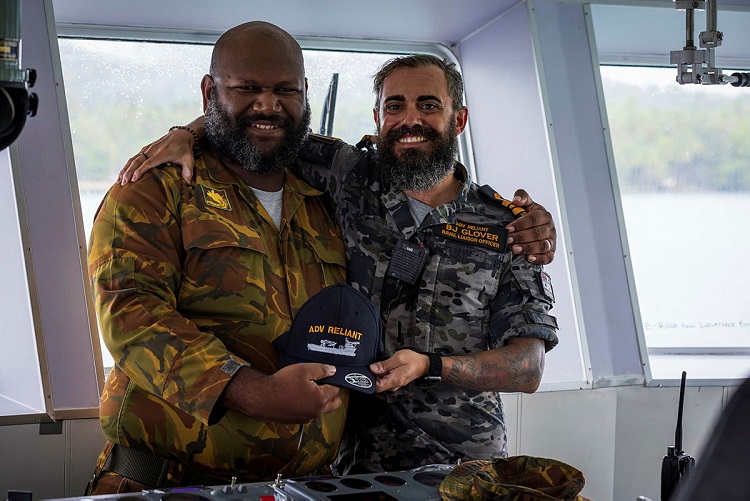 Commanding Officer HMPNGS Cape Gloucester, Lieutenant Bryan Pohai, reunites with old friend, ADV Reliant Naval Liaison Officer, Lieutenant Commander Brenton-James Glover on 21 July 2023.
This year the exercise will include renovating a primary school, road and drainage repair, maintenance of PNGDF living quarters among other works.
The pair first met in 2016 when LCDR Glover was posted to Papua New Guinea as the Commanding Officer of HMPNGS Lakekamu.
"The role was a part of the Royal Australian Navy's training and mentoring efforts on the gifted Landing Craft Heavy," LCDR Glover said.
LEUT Bryan Pohai was Executive Officer to LCDR Glover on HMPNGS Lakekamu and together over the course of two years they supported the PNG Defence Force and the people of PNG through operations and disaster responses.
"Together BJ and I worked on Operation Kadova Assist to evacuate and relocate more than 500 people from the erupting Kadova Island volcano," LEUT Pohai said.
"On Operation Lukautim Kibung we provided support to the maritime security architecture for APEC 2018 in Port Moresby."
"We've definitely been through some good times and some bad times. But overall it's the commitment that Bryan has shown to the role, I think that really helped me when we were working together here in Papua New Guinea," LCDR Glover said.
"HMPNGS Lakekamu was the workhorse of the PNG Defence Force Maritime Element. In December 2018, I handed command over to a PNGDF Officer, after encouraging Bryan to learn as much as he could and ultimately achieve his Command Platform Endorsement."
Throughout 2019-20, the pair continued to work together while LCDR Glover was a Maritime Operations adviser.
"It was really pleasing to watch him grow as an Officer in that time.
"In May last year, I was asked to return to PNG and conduct the introduction into service training for the Australian gifted HMPNGS Cape Gloucester, the new replacement for the aging Balikpapan landing craft.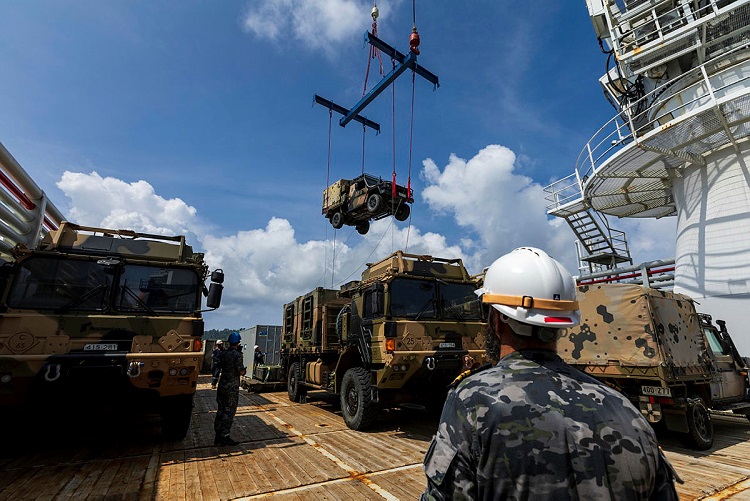 ADV Reliant Naval Liaison Officer, Lieutenant Commander Brenton-James Glover, oversees stores being discharged onto HMPNGS Cape Gloucester, in support of Exercise Puk Puk 2023. Photo.
"When I arrived for the training, it was humbling and exciting to see Bryan as the appointed Commanding Officer with his crew, ready for the week of training and to learn this new ship."
HMPNGS Cape Gloucester and its crew was an essential element in the stores delivery to Manus Island – rafting alongside ADV Reliant and receiving the cargo via crane. The cargo was then ferried to the barge ramp.
"For me this task symbolises the mission of Reliant, to work in a collaborative nature alongside our Pacific partners. Personally, my relationship with Bryan and how our careers continue to entwine themselves really shows that it is possible to have an idea, and with hard work, watch it succeed to close out an incredible chapter.
"Through dedicated training we can see a bright future for the PNGDF's amphibious fleet and its personnel."
For further information, including access to related materials, please contact the Australian High Commission media team: +675 7090 0100