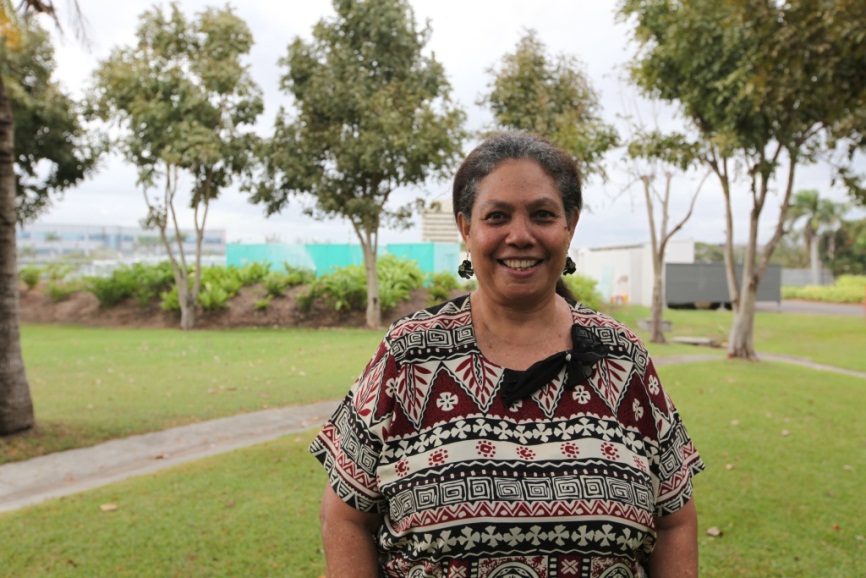 Catherine Natera is an advisor for the Ending Violence Against Women program at Oxfam International, lobbying for Government support and advocating for women in PNG.
Here we speak with Catherine about her commitment to working to help victims of gender violence in PNG.
I grew up on a mission station on Yule Island, Kairiku-Hiri District in the Central Province. My grandfather was a Philippino missionary. I never felt there was inequality. There were nine in our family and we were all educated. I had the same opportunities as my brothers.
As a child I was inspired to study and make the most of my opportunity for education. My family was very supportive of my education. My brother who had graduated from university in Australia encouraged us and paid for school fees for many of us. I credit my brother with what I have achieved but he insists that I got there on my own because I had the drive and desire to do so. My father was a Catholic catechist and later a clerk in the Government administration. He provided for all our needs, including education.
My mother was a great influence in my life. She was a very strong woman and her strengths are displayed in her five daughters, she raised us to be very good organisers and managers. She did not have the opportunity of an education but she was very bright and I think she was a woman ahead of her time.
I work as the Ending Violence Against Women Technical Adviser at Oxfam Australia in PNG. Prior to working in this paid role I have worked in this role in my community as a volunteer for most of my adult life while also working a paid job in the public sector. An important component of my work at Oxfam is lobbying for policy and legislative change that will help improve the lives of women and children who suffer from gender related violence.
PNG has many strong female role models. Many of the women on the Council of Women inspired me early in my career in the mid-seventies and early eighties. Now I am inspired by people working on gender issues right at the community level. We all work where we can to make a difference.
I am passionate about women's economic empowerment. I feel this is the way forward for women and families. I'm thankful to development partners and now the government for supporting policies and efforts to provide funds for women entrepreneurs. If women are empowered economically life will be better for the whole family, especially the women themselves.
My sister worried that I would be hurt when I became involved in others' domestic troubles. However I was never frightened. It is my nature, when I see something I just respond. I don't think anyone doing this work worries about the consequences, just the need to help. You might get hit when punches are being thrown but that has not happened to me.
Sometimes when I speak to children who are despairing about not reaching their goals I tell them not to give up. I tell them my story of how I focussed on other issues such as my volunteer work in my first year at university and did not get the grades I needed. However I tried again later and succeeded.
In my village and area of the island the women can speak openly, we are not told not to speak or that our opinions do not matter because we are women. As a child I was very shy but now I use my voice to advocate for the rights of PNG women, young girls and children. I work in this field because I want to see a fair society for women and girls, and children who I find are very marginalised.
PNG women in the workplace deserve better working conditions and better facilities for childcare and policies around maternity leave. The private sector doesn't provide the same opportunities for time off for children as the public sector under the Government of PNG GESI program. I believe more women in leadership and management positions would be beneficial for all women.
I encourage women to talk about violence against them in the workplace. It is important that they speak out against this. Don't hide it.
Leadership happens at all levels. Probably the most essential qualities are to be accountable for your actions. Personal integrity and reliability are important. Be someone who is responsible and can be counted on and be vocal about what others feel is important. Be the voice and try to influence change.
For the future of PNG I would like to see more women elected to National parliament. I believe this would bring more changes for the benefit PNG women. I would like to see a more responsive gender budget from the national to the provincial level and what I want most of all is for the people of PNG to enjoy the quality of life that we need. That we have a right to.
PNG Women in Leadership is a six-part interview series sponsored by the Australian High Commission Papua New Guinea