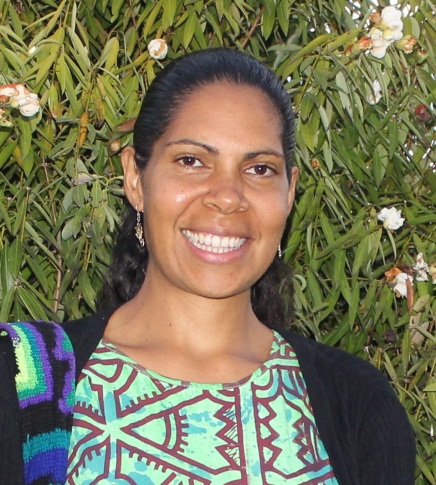 Meri Markham
Jennifer Baing Waiko, whose father is from Markham valley and mother is from New Zealand, takes us on a journey back to her roots. Meri Markham follows her journey to stand for the 2012 Markham Open election.
Here we learn more about Jennifer.
I was born in Port Moresby and I grew up in Markham Valley. When I was about four years old we went to my dad's village and I spent about three years there. I learnt my language Adzera and I was able to walk around in the gardens and go swimming in the rivers and that was a memorable part of my childhood that linked me to PNG. Heart blo mi stap lo hia (My heart is in PNG)
Currently I am the Director for an organisation that my husband and I formed, Save PNG. the last four years We've been focusing on we've been working on an 11-part television series called Café Niugini that's been shot in provinces around PNG promoting our local culture and encouraging people to go back to their local traditional foods which are more healthier for them.
I am part of the Morobe Physical Planning Board so we meet every month to discuss and review what sort of developments will be taking place in Morobe and we have to decide whether those developments go ahead or not.
My mother and father were very inspirational in my life. Seeing my mother as a New Zealand woman coming and living in Papua New Guinea in the village – always seeing that she was different from everybody else but she was still able to humble herself and be there with everybody.
My dad has never been afraid to go after what he wants in life and so they were very pivotal in my life.
My husband has been pivotal in my life especially since we had our first son Yavita in 2008. He has been a big strength in my life and has been really supportive of whatever plans we have, he has been the backbone to our little family, really kept focused keeping us focused and helped us to look to the future and what we want to see.
Through him, knowing about film because he is a film maker, I've really learnt a lot about how much film can influence people. Also, how that really is a key area in Papua New Guinea that we really need to start looking into because we are story tellers. We learn the fastest through watching and doing.
I am currently doing my masters on communicating local solutions to malnutrition so through my work in that I really would like to educate PNG women on how to keep proper nutrition so that before they are pregnant, when they are pregnant, after they have had their children, how to feed them properly. Especially in Momase region, we've got a really major problem with malnutrition. That's where I see myself heading in the future – focusing more on educating women on how to bring up their children and feed them properly.
God influences me the most. I am passionate about God and for his people. This country is filled with wonderful people and my heart is really in this country. I really want to see changes in this nation. We have such abundant blessings but it hasn't translated through to the local level. For me, it is a really hurtful thing to see how rich our people are in this country. We have a nation filled with kings and queens but they don't even realise it. They are landowners you know, in other nations they would have to pay millions to get the pieces of land they have.
I've been given more than equal opportunities to be able to be where I am. My father and mother were able to have a good education. Many people were not able to have the same kind of education that I was exposed to. You see how many successful people there are in Papua New Guinea even though they went through the PNG system, and where maybe the schools did not have teachers in them all the time. Those sort of people are an inspiration to me.
If God is in your life then anything is possible. I live out in Markham District. It's not the most rural area you could live in but I would like to encourage women to go back to their gardens and start learning about agriculture, planting their local foods, feeding their family from their own gardens, because that's where a healthy family and a healthy community is going to come from. Its' all about what you eat and how that translates into your body and mind as well.
Women are a blessing to this nation. Every single one of you was brought up by a mother who woke up early in the morning and cooked you breakfast so you could go to school. If you give women an opportunity, you'll be surprised at the amount of blessing that will flow into your family. Give them the opportunity and listen to them; they have a lot of good ideas.
I entered into politics because I saw that a lot of money was coming into the districts but what was happening? Women are still giving birth in difficult situations; the health centres are not as well-equipped as they could be; people are still drinking from rivers. The basic human rights are not being provided for and that's why I wanted to go into politics because I saw that we need to get materials for the schools, we need to provide rural aid posts with solar power and we need to build proper housing for teachers. It just wasn't happening so I thought, I'm just like everybody else around here, why don't I just put my hand up and see what happens.
You have to be a servant; you can't sit on your high pedestal and say do this, do that and do this. You need to get down to the grassroots level, humble yourself and listen to what the people want. You can't expect to know everything because the people will tell you what they want. And if you want to be a good leader, you really have to have that servant attitude - you need to go down and serve the people.
I really want to see this nation blossom into the true nation that God blessed it to be. Abundant blessings flow in this nation, but, can we see it? I'd like to see it come to fruition and I'd like to see that manifested in this nation with good roads, good health systems and people healthy and eating good foods. A strong a powerful nation.