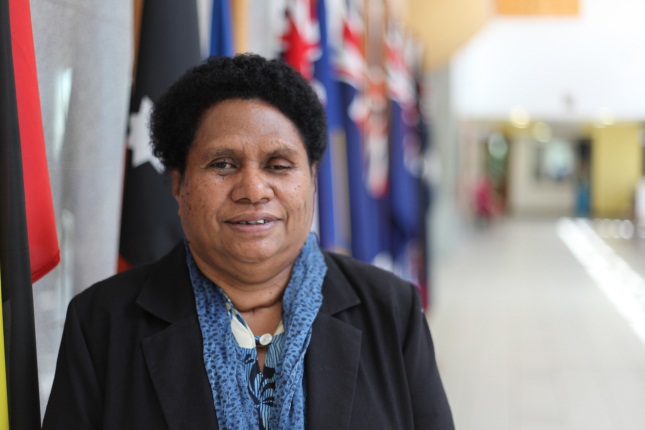 Dr Nama Polum is an educationist by profession and is currently Deputy Secretary of the Department of Treasury.
Here we speak with Dr Polum about leadership and gender equality in the public sector.
I always looked to my mother as my role model. My parents, especially my mother were inspirational to all of my family. We were taught through her nurturing and coaching us to be good citizens, accountable for our actions, display ethical behaviour, commitment, and determination.
I come from a very large family and many of us had the opportunity to be educated in Australia. It is difficult to obtain a scholarship to study in Australia and I and my siblings who were successful owe our success to our upbringing and our home life.
When I was growing up in my village in the Rigo District in Central Province we had equal opportunity in my family and in my village for all children, boys and girls, to study and to strive to achieve. I was encouraged to study when I was young. I studied in Australia twice through the Australian Government scholarship program. I am very grateful to the Australian Government for giving me that opportunity.
My husband is very supportive of my studies and my career. Because of his support I was able to study in Australia. My husband cared for our two children in PNG when I lived in and studied in Australia. He, and my family who assisted him, enabled me to achieve what I have academically, and in my career.
Gender equity in the workforce is essential. I am very involved in gender equity in the workforce in PNG through my position at the Department of Treasury, and as a member of the Women in Leadership group.
Women in Leadership (WIL) is led by Dame Carol Kidu. We share ideas and experiences of the issues faced by women in PNG, and work to improve the gender balance in training, development and recruitment.
My passion is to impart my knowledge, to coach and mentor others, not only women but men also. I began my career as an educator. I worked in education for 20 years prior to working in the public sector.
At forums organised by WIL I endeavour to encourage young women in the public sector to realise their full potential. The audience are primarily young university graduates who have a lot to offer PNG. Their voices should be heard.
I want to encourage PNG women not to underestimate themselves. Once your voice is heard others will make way for you, they will be more inclusive and you will be able to contribute and make a difference.
If you are qualified you have as good a chance as the men. Eliminate the perception that women cannot do the job just as well as men. If you have the training, the experience and the skills apply for the jobs. Don't assume that you will not succeed because you are a woman.
I always wonder why there are an equal number of women selected for the scholarship program and completing those studies in Australia but that is not reflected in the number of women in leadership positions in PNG?
I encourage women in PNG to strive to excel. Overcome the perception in our PNG culture that there is no point in applying for senior roles because you are only female. Realise your potential. Recognise your skills and qualifications. Eliminate the ideas you have that you cannot advance.
I encourage PNG women to speak up and stand up against gender violence. Many think that it is the norm to be abused by their husbands or partners. It is not the norm and it should not be considered normal for this to happen.
Improvement of the gender balance lies in training, development and recruitment. At Treasury we are working to establish a formal gender committee to organise activities to promote women in the department. The Treasury Department is a leading agency in implementation of the Gender Equity and Social Inclusion (GESI) Policy. The Government of PNG's GESI Policy aims to increase women in leadership roles by 30 per cent by 2015. This is an achievable goal.
Gender equity is a two-way street. We can't expect men to allow better opportunities for women all the time, women must also support men. Treasury is represented in the Government's advocacy group for men, Male Advocacy Network. This is an important element of equal opportunity in the public sector workforce.
The private sector needs a gender equity policy similar to GESI. It concerns me that nothing similar to GESI is available for gender equity across the private sector.
To be a good leader, male or female, be resilient, a strategic thinker, a good role model, communicate effectively, build collaborative relationships and, very importantly, build all of your staff's capabilities.
For the future of PNG I look to our Constitution. It calls for equal participation of men and women in the development of the nation. The Constitution is there and the policies are there. We need to work on their implementation.
PNG Women in Leadership is a six-part interview series sponsored by the Australian High Commission Papua New Guinea