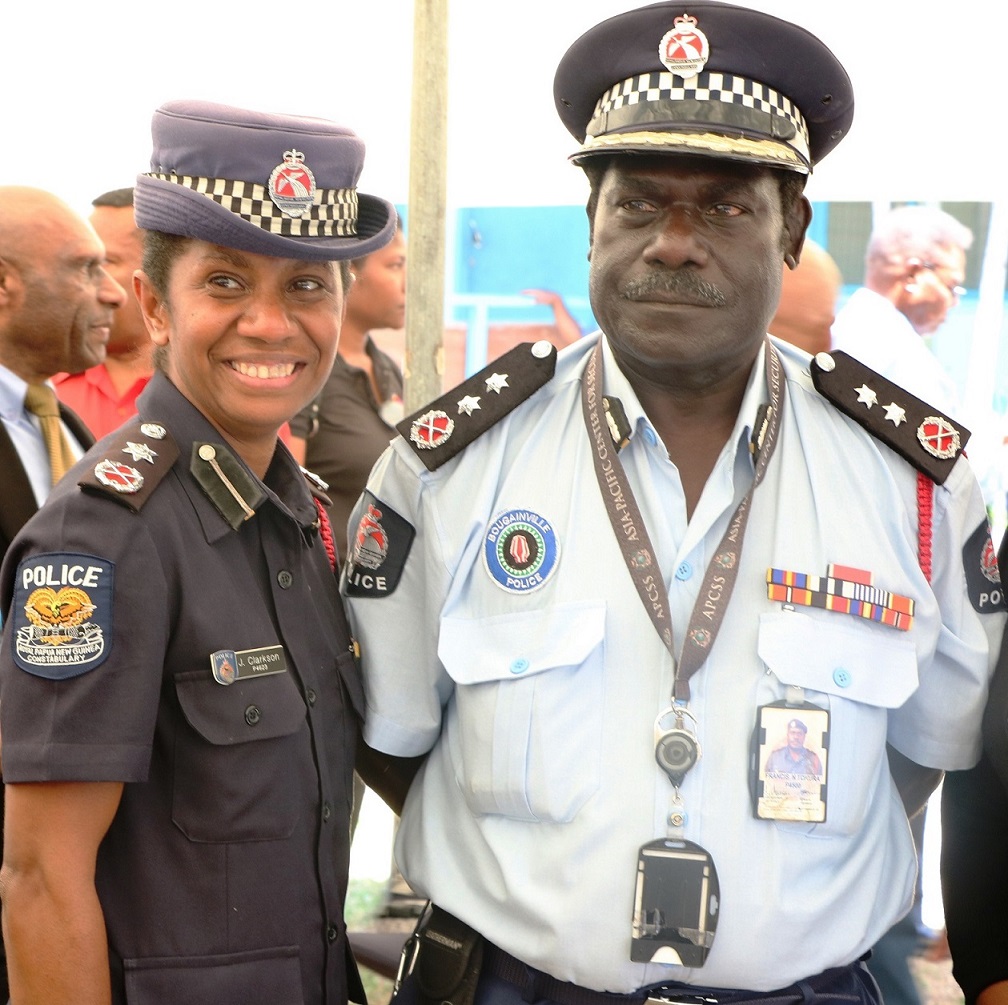 Ms Joanne Clarkson is currently the highest ranking female police officer in the Royal Papua New Guinea Constabulary, with her recent appointment as Assistant Police Commissioner.
In this interview, Ms Clarkson tells us why it is important for women to nurture the values of respect, hard work and courage starting with what inspires her most.
I am a mother of three sons. My biggest influence on my career are my children. They keep me real and I always think about how I can make a better future for them. I am also moved by what I can do in my position to empower young women and girls. I have a lot of sisters and female cousins and think about how women must be encouraged to do what they would like to do and become who they want to be, without being fearful of their security and their safety – that's what keeps me coming to work every day.
Situational awareness is so important. To all women and girls, when you are moving around or going somewhere, getting into a bus or car, check around you and familiarise yourselves with what is 'normal' for the areas you move around in whether it be where you live; work; or places you regularly go to. Be aware of the people who are normally in that environment. If something seems out of place, take note, get away and exercise greater precaution later on. Do not allow yourselves to be in a situation where your safety can be compromised. I read our major incident briefs every morning and the things that happen to women in this country are horrific. Personal safety and personal situational awareness is incredibly important!
Growing up, my mother inspired me a lot by showing me, through her own life, that you can manage both a career as well as raise a family. She was a very hardworking woman not only holding a full-time job, where she assisted our dad with their accounting business, but she also raised a family of five children.
I think having an appreciation of where we come from is fundamentally important. It gives us all a good grounding. The two people that influenced me the most are my mum and my grandmother. They instilled in me, the values of respect and hard work. You cannot take things for granted. Life doesn't come easy and that is where I derive my strength from.
Respect for each other so we can live as a community in harmony is essential in PNG. We are a uniquely diverse people therefore respect and appreciation of our respective cultures is important. Respecting the people who brought us up and enabled us to have the life we have today is also important. Respect for the elderly begets humility because they have a wealth of knowledge and wisdom to share.
As a woman you sometimes feel that you are expected to give a little bit more and do a whole lot more, yet people don't expect that you'll succeed and are surprised when you do.
For women in PNG, it is critical for us to believe in ourselves and support each other. If someone says you cannot do something, prove them wrong. When I joined the Constabulary as an officer cadet in 1996, there were 25 of us in my squad. Only 15 of my original squad graduated and I was the only woman. I duxed my squad and commanded the squad when we graduated. I was told I couldn't do it and that I wasn't meant to be there. That drove me; so if someone challenges you saying you cannot do something, believe that you can.
We are encouraging more women to join the police force so it makes it easier for women to talk to another woman about their issues when they come to police stations. We have established a policy that encourages the recruitment of more women into the Constabulary and have a twenty-five percent quota for women with every recruit intake. In PNG we have about 760 policewomen (or 11% of the uniformed police personnel), in the Constabulary – we do much better than some of our sister Pacific Island countries. Some of whom have only three women.
I think having pride in the fact that you're a woman is very important. Some women try to be one of the boys and I think when we do that, we let ourselves down as women. Being who we are is incredibly important. We bring our own set of ideas; a whole different way of thinking; and a different set values to our organisations and to our country. Therefore we have to be really proud of the fact that we were given this gift of being a woman. The backbone of this country are its women. I really believe this because I saw it through the strong women in my family as I was growing up.
At the time I joined RPNGC, there weren't many senior women officers in the Constabulary, with the exception of the Late Superintendent Joan Dangoume. She was an inspiration for me and she attained the rank of Superintendent before she passed away. Like me, she was from Manus – must be something about the ocean.
There are more women in senior positions of private and public sector organisations in PNG and that's positive. I would encourage those organisations, whether public or private, that do not have a policy or practices that support the recruitment and retention of women to their organisations, to put these in place.
We do need more women in politics, in government, at the decision-making level. Because I believe you can only truly shift the way a nation is moving at that level. If you want to have a nation that embraces the contribution of women and supports increased engagement of women in making decisions to shape the nation then you need to have more women in those sorts of arenas.
A nation is built on its people and we aren't harnessing enough of this resource. The people in our villages and smaller communities are very innovative and they have a lot of creative ideas and they survive without some of the things that we take for granted in the bigger towns and cities. If they were able to get even half of what we take for granted in Port Moresby and Lae, think of the transformation that could have on their lives and the contribution that they can then make back to our country.