Male public servants have committed to taking a leadership role in responding to and preventing gender-based violence in the workplace.
This follows a four-day Male Advocacy Training program from April 3-6 which 15 male public servants participated in, to better understand the role they can play in addressing this pressing issue.
Jack Wale, Database Manager and Business Analyst at the Internal Revenue Commission, said the training helped him see the importance of the role of men in addressing gender issues.
"At the Internal Revenue Commission we are trying to make the workplace safe and secure for our female staff," Mr Wale said.
"This training has given me first-hand knowledge on the impact of gender inequality and gender-based violence and how to respond to these challenges.
I have two daughters and it made me consider how I want my girls to be treated - to be free to succeed in whatever they want to do."
Gotch Mou, Principal Advisor - Employment Conditions and Industrial Relations at the Department of Prime Minister and National Executive Council said the practice of gender equity and social inclusion can improve the office environment and performance.
"The training addressed misconduct and negative attitudes in the workplace, including sexual advances, playfulness and unwanted attention between male and female colleagues," Mr Mou said.
"We broke down the meaning of gender related issues at the workplace. I can now use these correctly in my work when dealing with issues or report writing."
Acting Secretary of the Department of Personnel Management, Taies Sansan, said the National Public Service has a vital role to play on gender issues.
"Gender-based violence and gender inequality are major challenges for Papua New Guinea," she said.
"As public servants, we have a responsibility to show leadership in changing attitudes and behaviours - both in the workplace and in the community.
At the Department of Personnel Management we are empowering women by ensuring equitable access to training and merit-based appointments, and we are supporting strong male advocates who can champion change."
The training program was supported by the Australian Government in partnership with the Government of Papua New Guinea through the Pacific Leadership and Governance Precinct to support the development of ethical and capable public sector leaders in the country. The courses will soon be held in Western Highlands and Northern (Oro) to reach provincial and district public servants.
Australian High Commission Counsellor Education and Leadership, Suzanne Edgecombe, said gender equity and the empowerment of women is a top priority of the partnership between Papua New Guinea and Australia.
"Denying opportunities to women is a great inhibitor of economic development, innovation and investment – this is the case in Australia just as it is in Papua New Guinea," Ms Edgecombe said.
"We are fully committed to supporting the Government of Papua New Guinea's push to uphold gender equity and social inclusion across all public sector agencies.
We want women and men to stand shoulder-to-shoulder as leaders to create change on gender-based violence and inequality."
For further information, including access to related materials, please contact the Australian High Commission media team: +675 7090 0100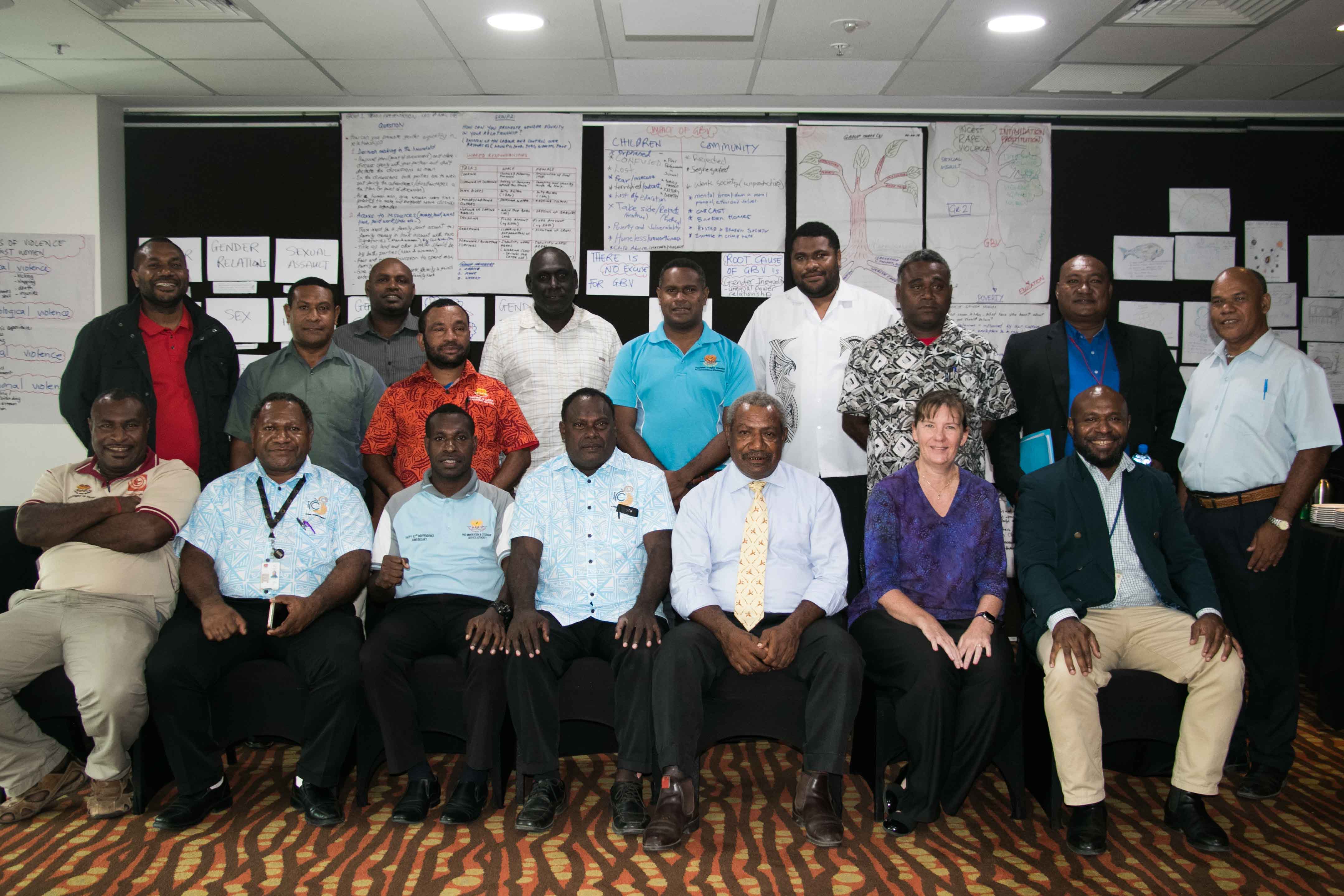 Australian High Commission Counsellor for Education and Leadership Suzanne Edgecombe (seated second from right) with the male advocates.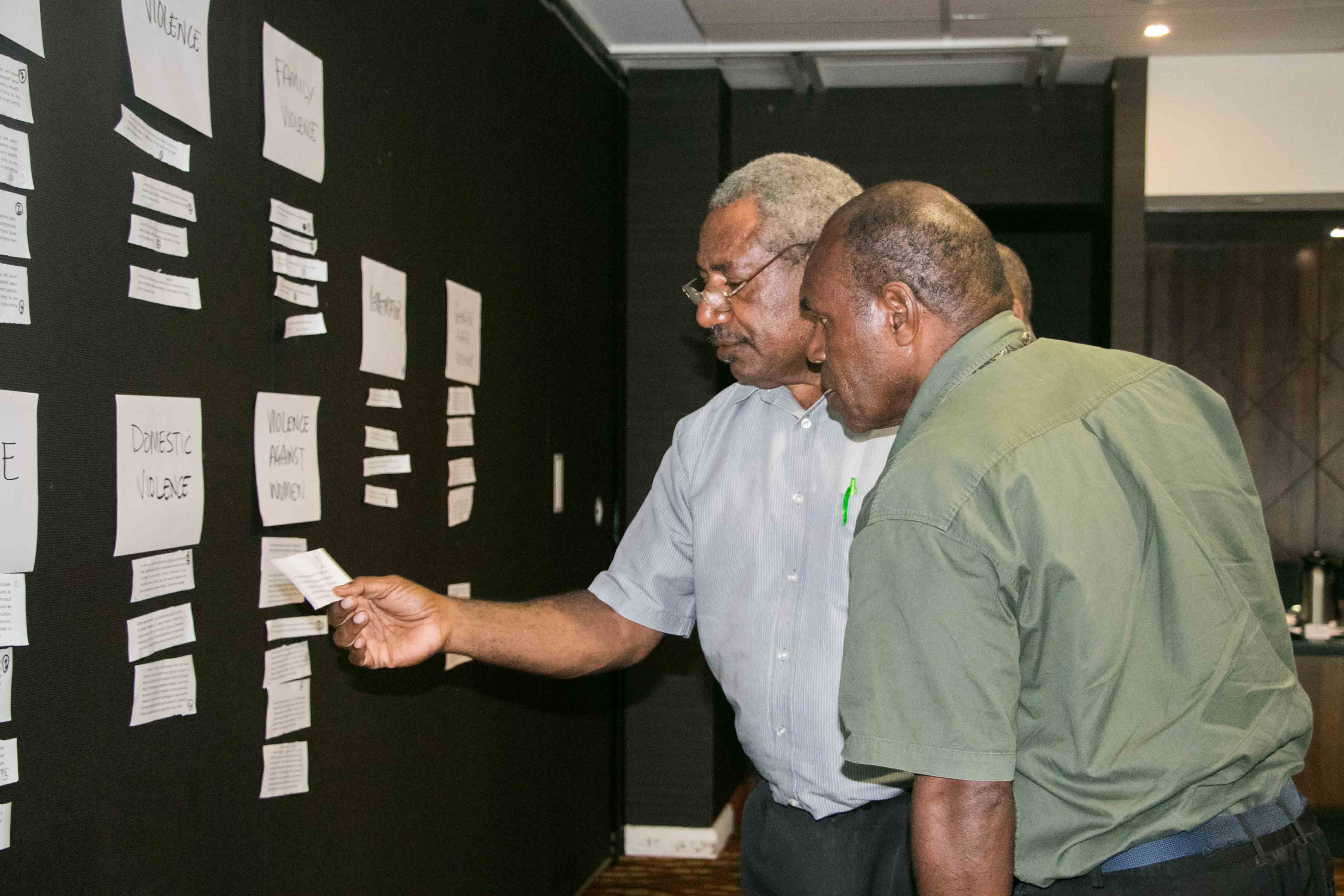 Participants discuss terminologies around gender-based violence and in-equality at the Male Advocacy training.