In commemorating World Malaria Day on Wednesday 25 April, representatives of the Governments of Papua New Guinea, China and Australia gathered in Kuriva, Central Province to mark their cooperation to ending malaria for good in PNG.
The Governments are jointly implementing the Australia-China-Papua New Guinea Trilateral Malaria Project. The Project is funded by the Australian Government and supports leading experts from PNG, China and Australia to improve malaria diagnosis and carry out research to inform malaria policy and program decision-making.
The project supports Papua New Guinea's National Malaria Control Program which is managed by the National Department of Health, and provides an opportunity for key institutions from all three countries to share knowledge and expertise.
Australia is a committed and long-term supporter of health sector improvements in PNG and has significant expertise in health security and surveillance. Australia's expertise is complimented by China's extensive experience in combatting malaria, as it is now on track for local malaria elimination by 2020.
In 2017, scientists and researchers from the three countries provided training to 200 national laboratory staff and health workers in accurate use and quality assurance of malaria Rapid Diagnostic Tests, microscopic analysis and highly sensitive molecular diagnostic techniques.
The Project also supported the PNG Institute of Medical Research conduct long-term malaria surveillance at four sites around the country in order to monitor trends in malaria transmission, which helps the National Department of Health ensure people have access to early diagnosis and treatment.
Nearly 95% of Papua New Guinea's population live in areas of high risk for malaria transmission. More than three-quarters of the cases in the Western Pacific Region are reported in PNG. Whilst the international community is looking to a malaria-free future by 2030, the 2017 World Malaria Report states that after an unprecedented period of success in malaria control, global progress has stalled.
In addition, World Malaria Day provides an opportunity to note commitments made at last week's Malaria Summit convened at the Commonwealth Heads Of Government Meeting in London, where commonwealth countries agreed to further enhance efforts to deal with the threats posed by the spread of malaria, particularly in developing nations.
The Prime Minister of Papua New Guinea, the Hon. Peter O'Neill MP, signed a joint communique to maintain focus on eliminating malaria, confirming that PNG is committed to "eliminating malaria from our country, from Melanesia, from the Pacific region and from the Commonwealth.
In her role as the End Malaria Council's first and only representative from the Indo-Pacific, the Australian Minister for Foreign Affairs, the Hon. Julie Bishop MP, affirmed her commitment to champion malaria action in the Indo-Pacific and progress malaria elimination regionally and globally. Here, in Papua New Guinea, the Embassy of the People's Republic of China echoes these sentiments through confirming China's commitment to fighting malaria with the people of Papua New Guinea hand in hand.
For further information, including access to related materials, please contact the Australian High Commission media team: +675 7090 0100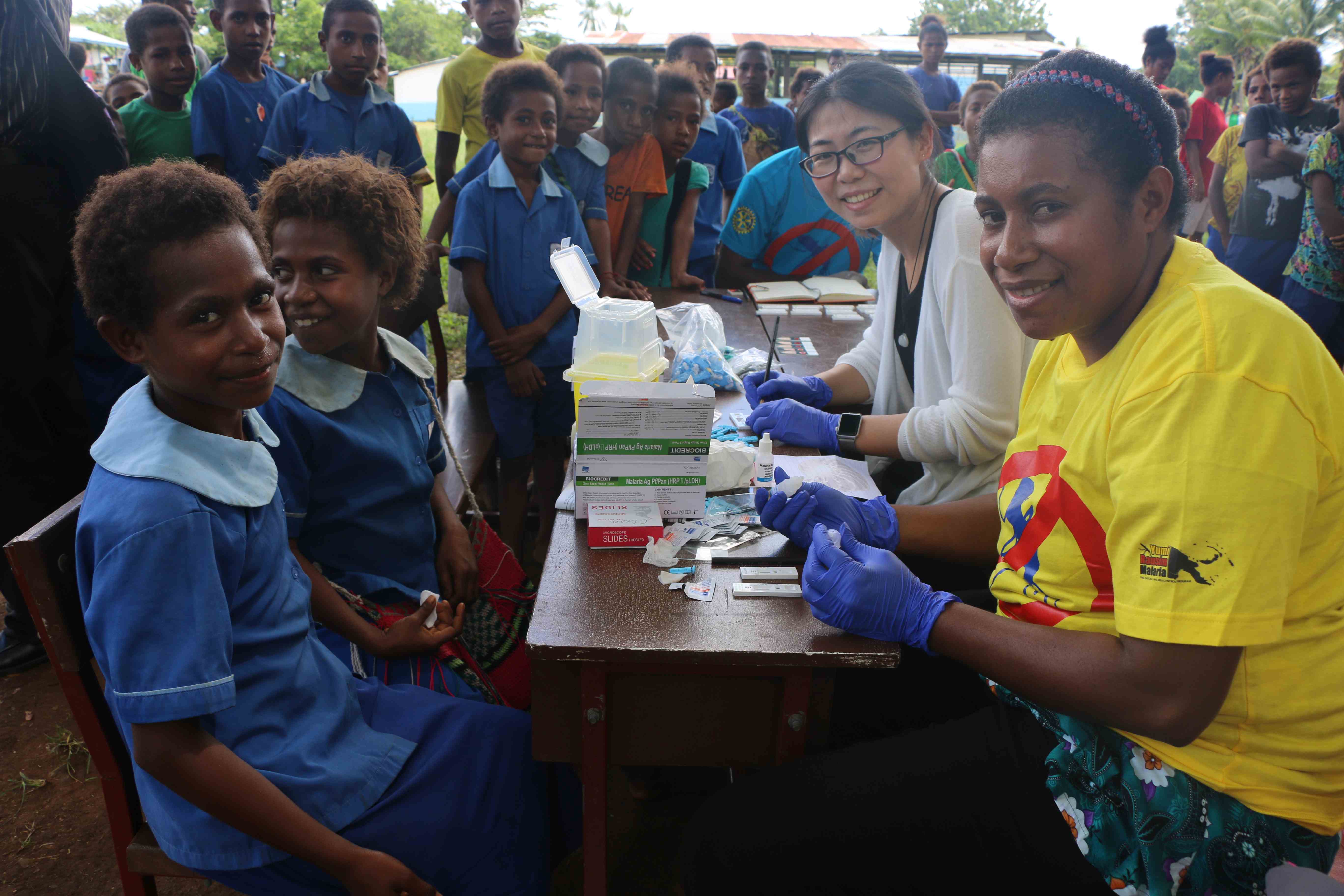 Lin Jin and Dorothy Abala conducting RDT on Kuriva Primary School students.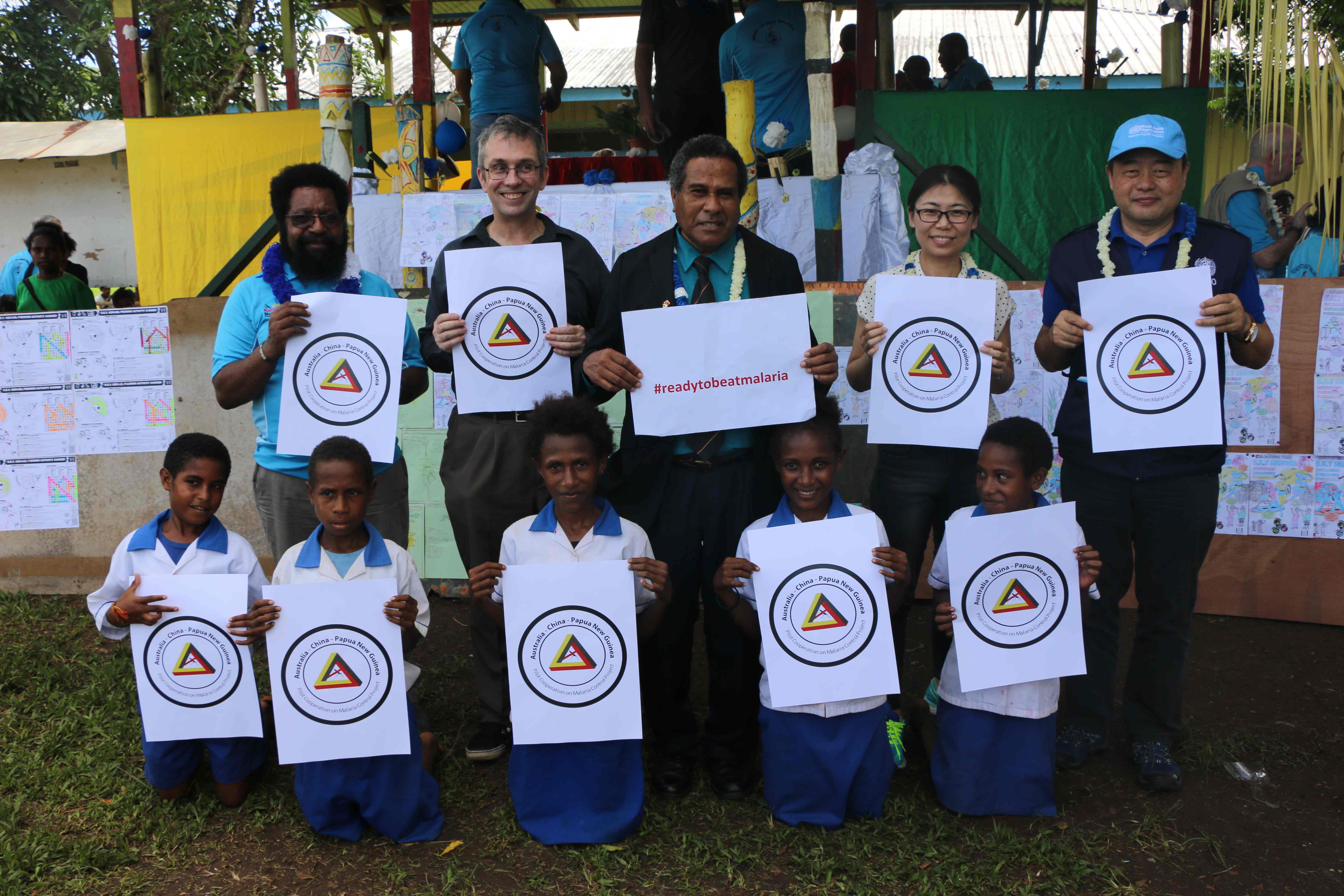 The Trilateral partners with Kuriva Primary School students.