A recent visit by Australia's High Commissioner Bruce Davis to Manus Province highlighted Australia's ongoing partnership with the Papua New Guinea National Government and the Provincial Government to support economic development and create economic opportunities in Manus.
The High Commissioner was accompanied by Minister for Police Jelta Wong, Manus MP Job Pomat and Kundiawa-Gembogl MP William Onglo. The visit provided an opportunity to thank the people of Manus for their longstanding contribution to the strength of the Papua New Guinea-Australia relationship.
The High Commissioner was pleased to accompany the Police Minister to the new Australian-funded Police Headquarters, which is providing improved policing services. In a first for Manus, the facility includes a dedicated Family and Sexual Violence Unit, providing a separate, safe and secure place for survivors to report gender-based crime and share information with the police.
The opening of 12 new staff houses at Lorengau hospital was a celebratory occasion – the housing will ensure the hospital is able to continue attracting and maintaining the best staff to serve local communities.
The Australian-funded Lorengau market, which opened in March 2015, was buzzing with activity during the visit. The market has 740 stalls and new amenities that have provided women with the opportunity to boost sales and enhance economic empowerment.
The delegation experienced quality service at the Manus Training Centre, a vocational training facility, during a lunch prepared by the hospitality students. The facility was supported through the Manus Support Community Development project, a partnership between the Manus Provincial Government and the Australian Government to strengthen local government police, leadership and community driven initiatives in Manus.
A visit to The Nature Conservancy project site demonstrated how the PNG-Australia partnership is assisting local communities to earn more from beche-de-mer exports. The project is the first of its kind in Papua New Guinea and is expected to extend to Milne Bay.
Australia continues to partner and support the Manus Provincial Government to improve governance, support local priorities, build capacity and engage with the community.
For further information, including access to related materials, please contact the Australian High Commission media team: +675 7090 0100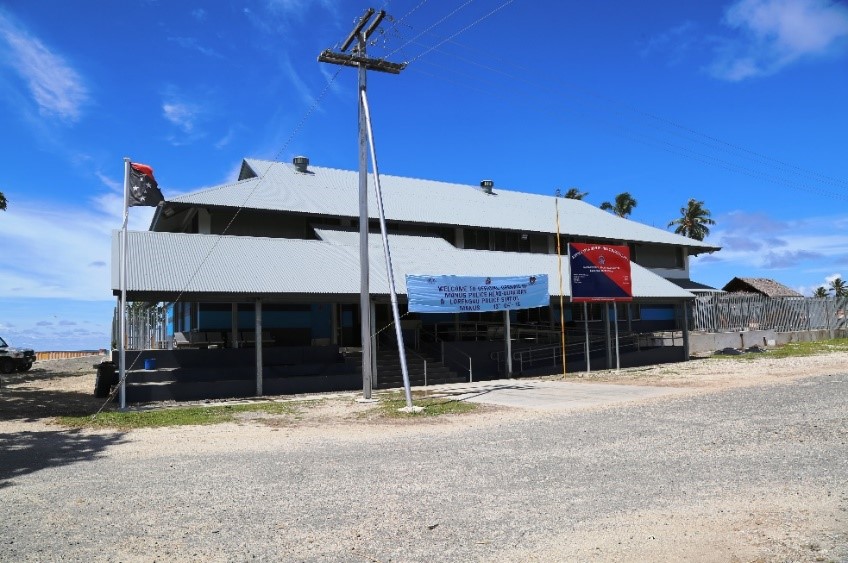 Australian High Commissioner Bruce Davis with Minister for Police, Jelta Wong during their recent visit to Manus.