Walter Oruda, 46, is a community-based volunteer and crusader who has been advocating against gender-based violence (GBV) for 15 years among young people in Goroka, Eastern Highlands Province.
Wally was among more than 800 people in Goroka town who recently took part in a march to spread the word that GBV at home and at work is not acceptable. Organised by the Australian-supported Church Partnership Program, many local advocates and groups united for change.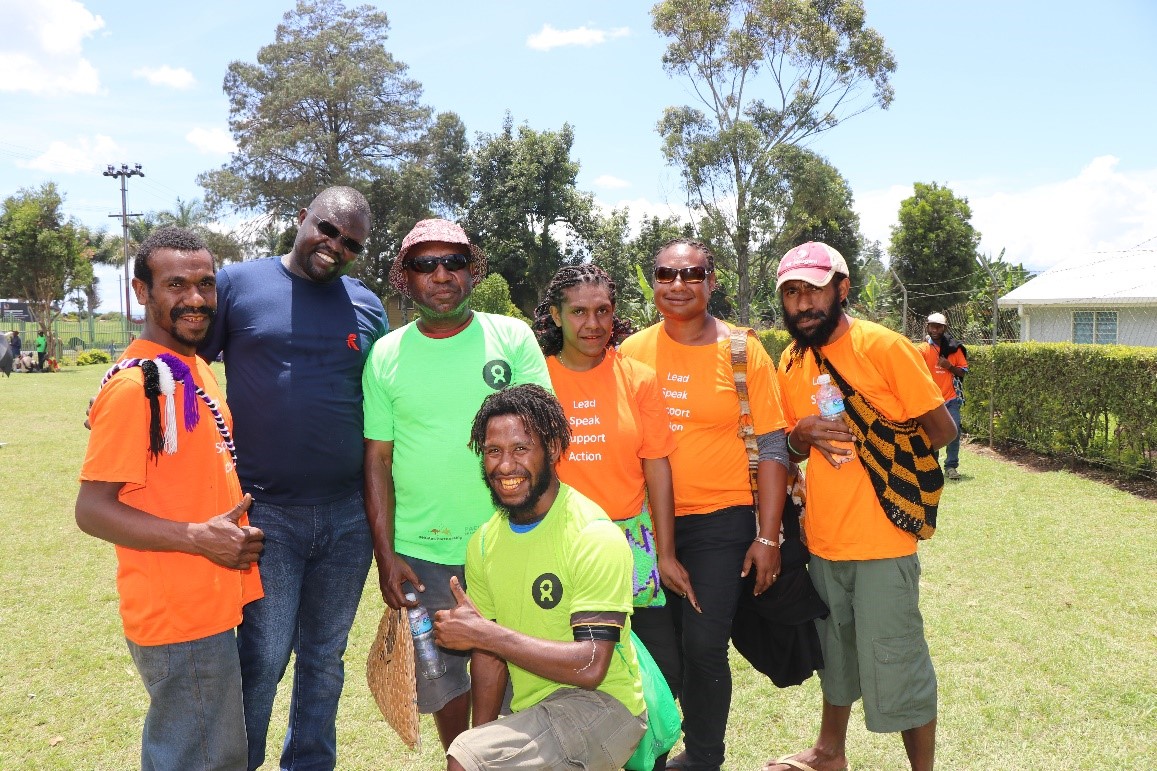 Wally (standing, third from left) and fellow participants at the recent Goroka GBV peace march.
Motivated by his own childhood experience growing up in a violent home, Walter, or Wally as he is more commonly known, made an oath to himself to campaign against violence in homes and communities. But to him, the "soft" approach of talking to perpetrators of domestic violence is a more effective solution than the use of the law as a first step.
"On many occasions, we tend to focus support and sympathy on the victim, and the perpetrator is ignored and handed over to the police. We think that when the police are involved, it solves the problem between the couple. But in most cases, this only adds to the problem, because the perpetrator will be angry and, when he returns home, the violence will continue," Wally said.
He believes that in the first instance, both the victim's and the perpetrator's side of the story must be heard.
"We must talk to them and listen to them. Even the involvement of police must be made clear to them that the law is here to assist, and not to harm them" he said.
Wally says families, friends and neighbours need to report GBV quickly. But, while the law is an important referral pathway for victims and perpetrators, the lack of police personnel in many rural and remote communities in the in the country limits people's access to this service.
According to Wally, some local customs and traditions are still a barrier to gender equality. The world of work is divided between what men do and what women do. Women are viewed as unskilled workers, gardeners and harvesters. This gender stereotype is often the root of domestic violence issues, which could be solved by talking to the male perpetrator, encouraging them to see a different point of view while pointing out the consequences of unacceptable behaviour.
He added that social values, such as respect, are learned in the home, and parents have a big responsibility to pass on these values to their children.
Wally visits several communities in Kama village and surrounding areas each week and has mediated peace on many occasions, while also advocating against violence and how it can cause disharmony for the family and community at large.
"I belong to this community. I want to work with my people and help them as a Male Advocate for non-violence. I can talk to them about gender equality as they are my own people. I know their background, their level of education, their history and culture. People find it easier if their values are challenged by their own people. It means we have time to support and appreciate new understandings and relationships," Wally said.
During the march, Wally brought together over 40 young people, many of them were perpetrators of violence. He said it was powerful to have them come together and promote peaceful change in their communities.
"Taking part in the march, I wanted them to see, think and feel that gender-based violence is not only a problem in our villages, but an international issue and be part of the global community of men speaking out against this problem."
The Peace Rally on the first of December this year was led by the Catholic Church, United Church and The Salvation Army and marchers were joined by the Melanesian Institute, University of Goroka and Ministers Fraternal, as well as Oxfam International, Eastern Highlands Family Voice, Kafe Women's Association and 20 other local organisations in Goroka.
The Church Partnership Program is supported by the Papua New Guinea-Australia Partnership and is a joint initiative between PNG's seven mainline churches and their Australian counterpart faith-based NGOs.
For further information, including access to related materials, please contact the Australian High Commission media team: +675 7090 0100