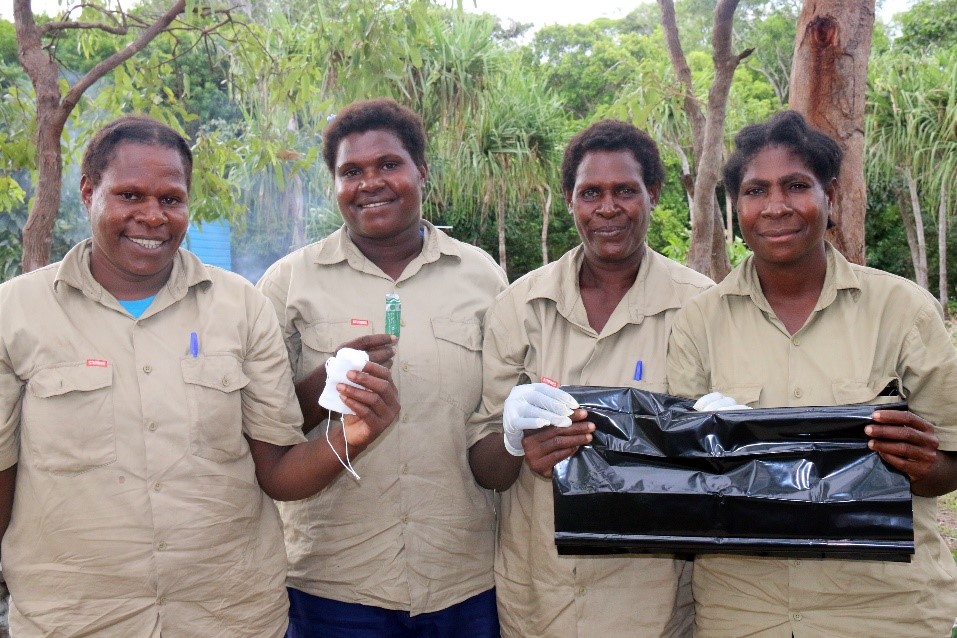 Dorothy, Lesia, Yawan and Dani hold birthing kits used during childbirth in their villages of Mari and Tais in the South Fly.
A community ranger program in the South Fly District of Western Province has helped to improve maternal and child health, motivate youth to become leaders and strengthen gender equity and inclusion of people with disabilities.
Adapted from a successful indigenous scheme operating in outback Australia, the Building Resilience in Treaty Villages (BRTV) program is supported by the Australian Government and aims to increase the self-reliance of 13 coastal villages in Papua New Guinea's South Fly District covered under the Torres Strait Treaty.
Managed by the Cairns-based Reef and Rainforest Research Centre and implemented by the INLOC operational team, the BRTV program involves the recruitment and training of people living in remote villages to become community rangers.
Yawan Mut is 43-years-old and a community ranger from Mari village. Since the program came to her community, she has seen significant improvements in maternal and child health.
"It costs over K100 to travel from my village to the main Daru General Hospital, an amount not many people, let alone women, can afford. It broke my heart how many women lost their babies at childbirth," she recalled.
Yawan said women would traditionally use tree bark and bamboo as birthing materials, and were assisted during childbirth by older village women.
"Since the BRTV program came in, our women have been using modern birthing kits supplied by the program, and we female rangers teach the pregnant women how to use them," said Yawan.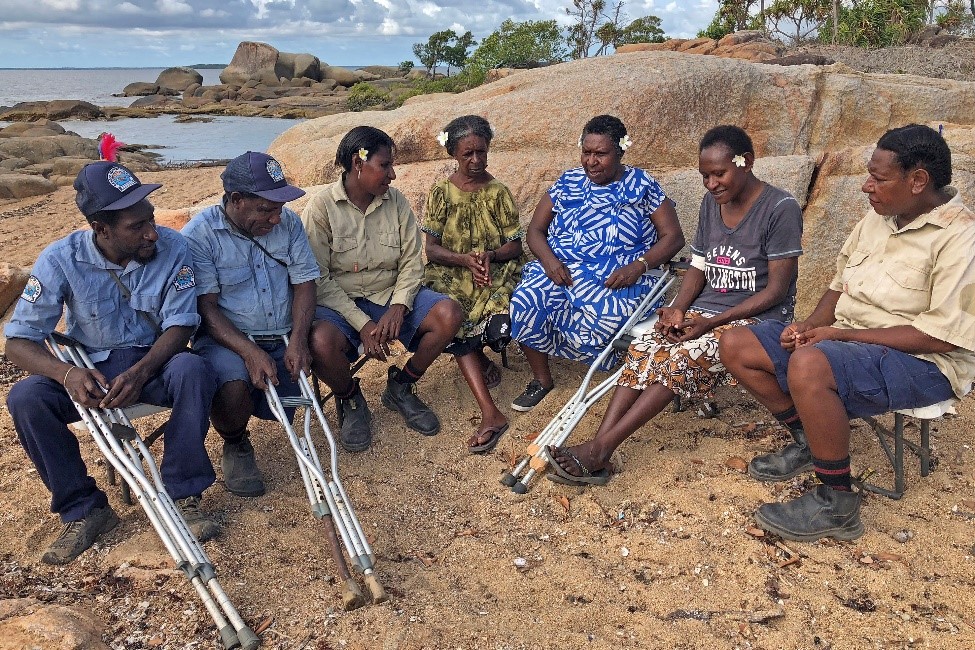 Waidana Gauso (far left), a ranger support officer (RSO) from Mabaduan village, welcomes three new female RSOs living with a disability to the BRTV program.
In addition to using birthing kits to safely deliver babies, Yawan has also been taught how to assess at-risk cases that need to be transferred to Boigu Hospital in Australia, around 15 minutes across the border.
The BRTV ranger program commenced in 2014, training the first round of 56 rangers in food security, water, sanitation and hygiene. With the support of Australia, the program has graduated over 110 community rangers, including 34 women.
Through the endorsement of participating village communities, the ranger program has created a ranger culture whereby women learn the same skills as men. Skills include basic plumbing, building, sanitation, disaster response, first aid, well-digging, marine rescue, community health, livelihood and leadership.
To assist the rangers, 10 ranger support officers (RSOs) manage logistics, with recruitment open to both men and women and priority given to people with disabilities. As all RSOs selected for the program have a disability, they have also been given the responsibility of engaging with disabled villagers to ensure ward development activities are inclusive.
Twenty-five-year-old Waidana Gauso has been an RSO in Mabaduan village since 2015. Despite relying on crutches, Waidana joins the rangers on livelihood projects and keeps track of their daily tasks, looking after tools, fuel supplies, water pumps and acting as the group photographer.
"When I lost use of my legs after falling from a coconut tree in 2013, I cried for my legs – confident this was the end of me. But I was thrilled when offered the job of RSO in the ranger program.
"It has helped build my confidence as I can now also contribute to my family's wellbeing through my income and that makes me very happy."
Dave Rutherford from INLOC leads the implementation team for the BRTV program based on Paho Island in the South Fly. Further to teaching various livelihood skills, Dave said the program also helped build the confidence of young men and women to be leaders and role models in their communities.
"For the ranger program to be recognised in the communities, that their own citizens are taking ownership of helping to build their societies, has really brought them together and helped give hope to many in the Treaty Villages of the South Fly."
For further information, including access to related materials, please contact the Australian High Commission media team: +675 7090 0100